Red Dead Online Adds Hunting Challenge And New Showdown Mode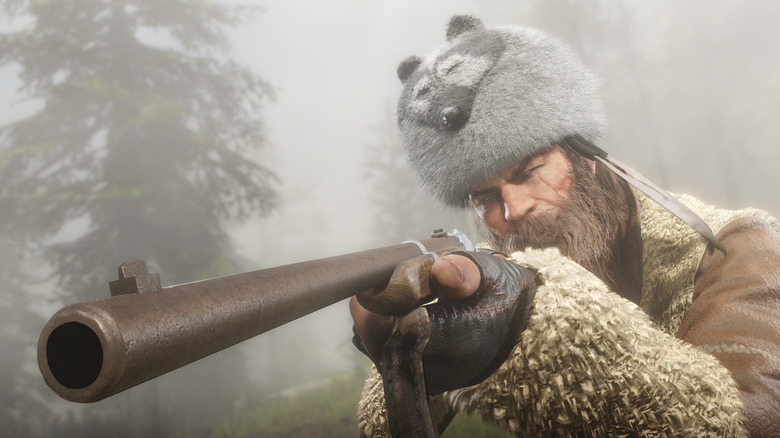 Rockstar's latest Red Dead Online update adds several new features, including the Wild Animal Kills Challenge, Head for the Hills Showdown Mode, and A Land of Opportunities bonuses.
The latest Free Roam Event lets you show of your hunting skills. In the Wild Animal Kills Challenge, the hunter who wracks up the most points win. Earn points by killing animals (the bigger the better.) More dangerous creatures will appear later in the challenge, presenting the opportunity to earn bonus points. While participating in the event, all offensive actions against other players will be disabled, allowing you to pursue your quarry distraction-free.
In Head for the Hills, the new Showdown Mode, you're tasked with crossing no-man's-land to reach your safehouse. To achieve your objective, you must outmaneuver opponents bent on taking you down at all costs. As the mode is turn-based, each player will act as both the pursuer and the prey. You can expect two more Showdown Modes — Public Enemy and Sport of Kings — in the weeks to come. 
This week, you also have the chance to earn bonus income from specific A Land of Opportunities missions. New players who complete the first mission, "Honor Among Horse Thieves", will receive RDO$50. All players can earn an extra RDO$75 for completing "Kill Them, Each and Every One" and another 10 Gold Bars for finishing "Destroyed By Grief."
Visit your Camp Lockbox or Post Office to pick up the latest care package, filled with goodies like Snake Oil and Potent Bitters. Rockstar has also added more cosmetic items for purchase. You can grab the Flora Corseted Chemise, Paddon Shirt, Plaid Cap, Racoon Hat, and Shaffer Chaps from the Wheeler, Rawson and Co. catalog.
Finally, everyone with 2-Step Verification enabled on their Social Club account will receive a special Raccoon Hat tint. If you enable it this week, Rockstar will also reward you with 10 Gold Bars for Red Dead Online and GTA$500,000 in GTA Online.