Microsoft Plans To Showcase 14 First-Party Games At E3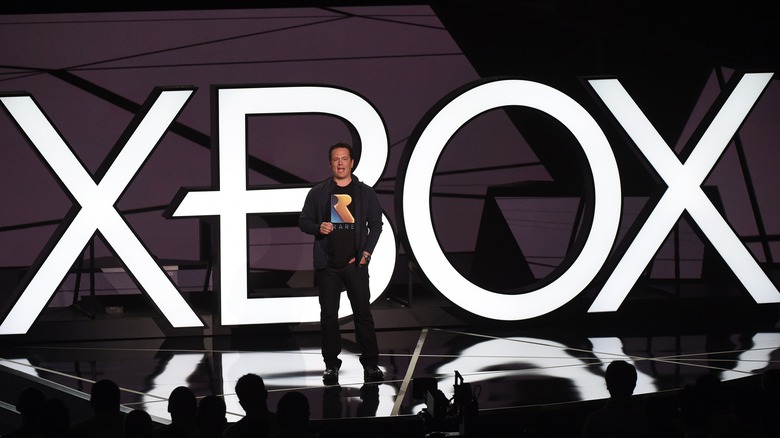 Mark Ralston/Getty Images
Is Microsoft finally ready to show off some new games this year? It appears that way.
Microsoft's Phil Spencer let the world know on Twitter (thanks Destructoid) that the company wrapped on rehearsing its upcoming E3 press conference; however, he couldn't say that without teasing a bit of new information about what Microsoft has in store. According to Spencer, Microsoft is bringing 14 first-party games to its E3 stage this year, which he stated is the most Microsoft has ever shown off. And that is bound to make the company's exclusive-starved fans very happy.
Advertisement
So what could they be? What are these Xbox Game Studios titles that Microsoft is sitting on? We have a few ideas.
We already know that Halo: Infinite is making an appearance at Microsoft's show; the company has said as much. You can probably count three Gears games as part of the mix, with Gears 5, Gears Tactics, and Gears Pop! having all been announced last year. It's been a while since we've gone without a Forza title, so one of those might be a safe bet. There's Ori and the Will of the Wisps, which is slated to release this year. And we have a gut feeling Microsoft is probably counting the PC port of Halo: The Master Chief Collection as one of the titles it'll be featuring. That's seven right there, potentially.
Advertisement
But what about the other seven? In addition to 343 Industries, The Coalition, Rare, and Turn 10 Studios, Microsoft now owns Obsidian Entertainment, Ninja Theory, Playground Games, Compulsion Games, Undead Labs, and inExile Entertainment. And the company is building out an entirely new studio for AAA titles called The Initiative. Both 343 and The Coalition are pretty tied up with their current projects. Rare is still supporting Sea of Thieves. Obsidian has Outer Worlds in the pipeline. inExile is hard at work on Wasteland 3. And Undead Labs is less than a year removed from the release of State of Decay 2. If Turn 10 is working on the next Forza (as is tradition), that leaves Playground wide open for something, and it could be the oft-rumored next chapter in the Fable franchise. Otherwise, all that remains is Ninja Theory and The Initiative. It's possible we could see the next Ninja Theory game, but it's likely way too early for The Initiative to have anything to show yet.
Simply put: there are a bunch of Xbox Game Studios titles that we can't quite nail down. That is rather exciting, isn't it?
Microsoft is set to take the stage on Sunday, June 9 at 4 p.m. ET. We'll have all the news from the show ready to go as soon as it drops.
Advertisement