Microsoft's 'Deals Unlocked' Kicks Off June 7, Offers 10 Days Of Xbox Discounts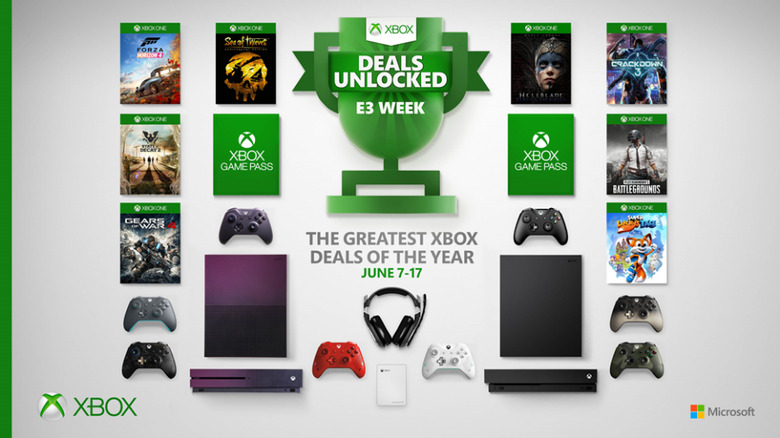 E3 2019 is fast approaching, and more eyes will be Xbox this year than ever before. Now it appears Microsoft is seizing the day. The company just announced Deals Unlocked, an Xbox sales event that starts on June 7 and will run throughout E3, wrapping up on June 17. And there appears to be some good stuff in here.
Advertisement
According to Microsoft's Major Nelson, Deals Unlocked will knock $100 off of the Xbox One X, bringing the company's flagship console down to $399.99. Various Xbox One S bundles will also see discounts of $50, which would presumably drop those to $249.99 (though we've seen bundles hit that price point already). The big steal here, though, is probably the price drop on the Xbox One S All-Digital Edition. That console will sell for $199.99 during Deals Unlocked, so if you're someone who can live without discs, you can pick up an Xbox One for just under $200. Not bad.
There are also some game discounts coming, though like Sony's Days of Play, the language surrounding the price cuts are a bit fuzzy. Microsoft promises that games will sell for "as low as $19.99," which basically means that will be the floor during the sale, but the ceiling will almost certainly be higher. If you're holding out hope that you'll be able to get Sekiro: Shadows Die Twice for $20, you might want to lower your expectations a little bit. Otherwise, it seems perfectly reasonable that a $30 game like Hellblade: Senua's Sacrifice could hit the $20 price point. So if you've had your eye on that, hold off until the sale starts.
Advertisement
Finally, Microsoft is knocking $10 off of its Xbox One controllers. That's not a showstopping deal by any stretch, and there's a good chance you can find controllers on sale elsewhere at a better price. But we thought it at least warranted a mention.
There are bound to be some other deals not mentioned in Major Nelson's blog post. For instance, there are Xbox Game Pass graphics shown off in the marketing image for the sale, which could point to some discounts on Game Pass subscriptions during Deals Unlocked. And it looks like some third-party hardware could also go on sale. There's a headset shown toward the bottom of the image, as well as what appears to be an external hard drive. We'll certainly keep an eye out when the sale goes live and fill you in on what's been added.
Until then, you might want to wait if you're planning to buy hardware or any Xbox One titles. Deals Unlocked starts on Friday, June 7, and that's just a few days away.