Rocket League's Radical Summer Brings New Modes, Tons Of '80s Nostalgia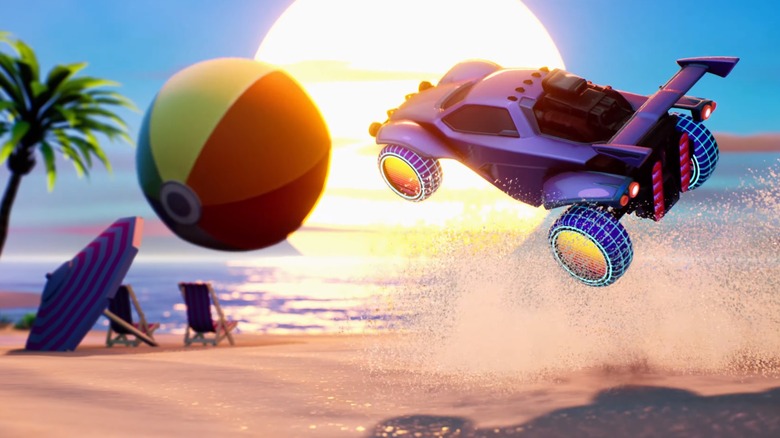 When you hear Kenny Loggins, you know things are about to get real '80s, real quick. And that's exactly what'll happen to Rocket League on June 10, when the Radical Summer event arrives to celebrate that decade's movies, TV shows, and culture.
When Radical Summer kicks off with 20 days of paying homage to '80s films, you'll find several limited-time modes have also been added to the game. There's beach volleyball, for instance (which we'll go ahead and count as a second nod to Top Gun). There's also a Ghost Hunt mode, which appears to use a Ghostbusters-style particle beam to lift and carry the ball. And there's a Spike Rush variant to a typical Rocket League match, in which player cars have spikes attached to them that can grab and carry the ball, more akin to football than, say, fútbol.
Several weeks of the event will also focus on '80s culture and '80s TV shows. Those start on July 1 and July 22, respectively.
And this being Rocket League, you know there are going to be some special car packs for the occasion. A Ghostbusters Ecto-1 Car Pack will go live on June 10, while a Knight Rider Car Pack will become available on July 22. But if you're not into buying things, Rocket League will also have some free stuff to collect as part of the Radical Summer event, such as a Back to the Future hoverboard topper, a Cobra Kai decal (from The Karate Kid), a Sloth's Hat topper (from The Goonies), and more.
There are apparently some secrets, too, which developer Psyonix specifically mentioned on the Rocket League website. But we do not know them, of course. They are secrets.
Rocket League's Radical Summer event lasts from June 10 until Aug. 12. That's nine weeks of heavy 1980s nostalgia. If you can handle that, we'll see you on the pitch when the update drops early next week.