Borderlands 2 DLC Leaks On Steam, Sets Stage For Borderlands 3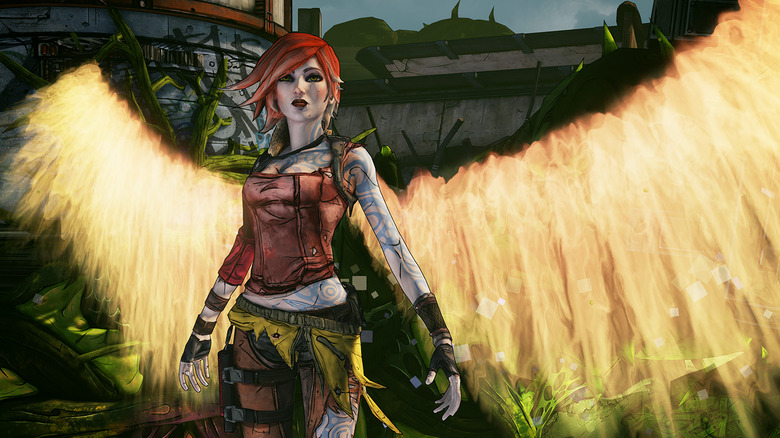 According to information and screenshots posted on Steam, new downloadable content is on its way to Borderlands 2. Titled Commander Lilith & The Fight For Sanctuary, the free add-on will bridge the gap between the events of the second and third entries in the series with new bosses, zones, and loot.
Though the leak has since been removed, here is the official description as documented by a quick-thinking Resetera user:
"Return to the award winning shooter-looter for a new adventure that sets the stage for the upcoming Borderlands 3. Sanctuary is under siege, the Vault's map has been stolen and a toxic gas is poisoning Pandora. Fight new bosses, explore new zones, get new loot (including an entirely new tier beyond Legendary) and join up with Lilith and the Crimson Raiders to take on a deranged villain hell-bent on ruling the planet
Returning players can pursue an increased level cap of 80, while newcomers can automatically boost to level 30 and dive straight into the action."
Based on the title, the DLC may offer some context on the move from the hub city in Borderlands 2 to Sanctuary 3, the new spaceship base featured in the third game. It may also shed some light on Sanctuary 2, a location which has never appeared in a Borderlands title. 
According to PlayStation Lifestyle's "trusted anonymous source with first-hand knowledge", Borderlands 2: Commander Lilith & The Fight For Sanctuary will officially drop during E3. Gearbox has also promised to unveil new Moze gameplay, a new planet, and a surprise or two at the event. E3 attendees will get the chance to play Borderlands 3 for themselves at Booth #1001.
Borderlands 3 blasts on to PlayStation 4, Windows, and Xbox One on September 13. PlayStation Plus members can grab Borderlands 2 for free this month as part of Borderlands: The Handsome Collection.