Ubisoft At E3 2019: All The Big Announcements You Missed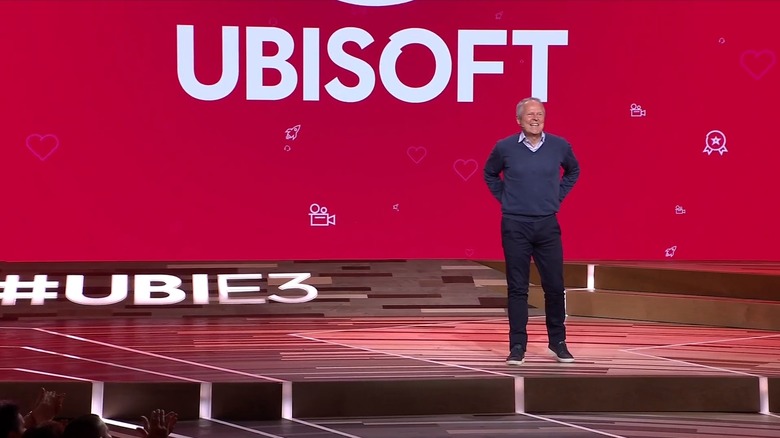 Ubisoft's E3 2019 press conference has officially wrapped, and now it's time to learn about everything Ubisoft had to say at this year's show.
Just a quick note before we get into it: we love Ubisoft's commitment to making music a part of its event, and the Assassin's Creed Symphony present this year (which goes on tour starting June 29, by the way) did not disappoint. The series isn't getting a new entry anytime soon, but it was a nice tip of the hat, nonetheless.
Advertisement
Now the show.
To start, we got an official unveil of the heavily leaked Watch Dogs: Legion. And if you thought the game sounded impossible, it looks every bit as impossible, too. In Legion, London has transgressed and become a surveillance state, with mercenaries in the streets and drones all about. You'll be tasked with building up a resistance, looking for the right people who can aid in your mission to give London back to the people. And you might've heard from one of those leaks that Legion would let you play as absolutely anyone. It's true: every character in the game is voiced, every character has a simulated life they lead, every character has a story. It's all incredibly ambitious, and we have no idea on earth how Ubisoft is pulling it off. But we'll find out on March 6, 2020, when Watch Dogs: Legion comes to PC, PlayStation 4, Xbox One, and Google Stadia.
Advertisement
It's Always Sunny in Philadelphia's Rob McElhenney took the stage next, announcing a new TV show built on a partnership between his team and Ubisoft. The show, Mythic Quest: Raven's Banquet, appears to be a Silicon Valley-style look into the goings on of a MMO development studio led by McElhenney's character, Ian Grimm. There's no word on when the TV show will premiere, but when it does, it'll happen exclusively on Apple TV+.
The Adventure Time crew is coming to Brawlhalla. Jake, Finn, and Princess Bubblegum are all joining the roster, and a new Buddy Mode is also coming to the game, along with a new Tree Fort stage. Want to check it out? The update releases today, so there's no better time like the present.
We got another look at Ghost Recon: Breakpoint, but this time, it mainly consisted of actor Jon Bernthal coming out on stage (with his incredibly obedient dog) to talk about his rival Wolves, the group you and your Ghosts will be facing off against in Breakpoint. It was also announced that A.I. teammates will be coming back to the game (after fans made their voices loudly heard), and a new community program called Ghost Recon Delta Company is on the way in the near future. Finally, Ghost Recon: Breakpoint is getting a beta, which starts on Sept. 5. That'll give you some time to get in and get your feet went before Ghost Recon: Breakpoint launches on Oct. 4.
Advertisement
Here's one we didn't see coming: Ubisoft Owlient is apparently putting the finishing touches on a mobile RPG called Tom Clancy's Elite Squad. We don't know much about it yet, but you can apparently pre-register to be notified about the game's release when it does arrive. We'll be keeping an eye on this one.
And that's not all for Tom Clancy, by the way.
Rainbow Six: Quarantine was announced, using the foundation built by Siege as the groundwork for a three-player tactical PvE game. You and your crew will do battle against all sorts of unseemly monsters and try to get to the source of all your misery: some unknown parasite that is undoubtedly hidden behind all sorts of additional monsters. There's no release date for Quarantine yet, but Ubisoft promises more info is coming in the future.
And The Division 2 is still very much humming along about as successfully as Ubisoft could've hoped for. But new content is coming soon: three episodes in fact, based in different areas around D.C. and beyond. The first takes place in the D.C. outskirts, asking you to bring war against a presidential compound which serves as the home of a traitor. The second tasks you with retaking the Pentagon, which has fallen into the hands of the Black Tusks. And finally, the third, set for early 2020, seems to have you hunting down a former Division agent. And that last one? It appears to take you back to New York City.
Advertisement
Oh, and we got word on The Division's film adaptation! It'll be directed by David Lynch, will star Jessica Chastain and Jake Gyllenhaal, and will release on Netflix. There's no date for the movie at this time.
Folks, the Ubisoft Pass is real, except it's not called that. Ubisoft announced during its show that it plans to launch a new subscription service for PC this September called UPLAY+. And UPLAY+ will feature over 100+ games (including premium editions of the newest Ubisoft titles), ringing up at $14.99 a month. But that's not all. UPLAY+ is coming to Google Stadia in 2020, as well. The saddest thing about this announcement was that UPLAY+ apparently isn't coming to console, but who knows; maybe that'll change in the future.
Otherwise, everything was pretty happy from here on out. We finally got to see that roller derby-slash-Rocket League game the internet has been talking about. It's called Roller Champions, and there's a demo launching today that'll be available through June 14. If you have UPLAY installed, you should be able to find it in the store now.
Just Dance 2020 is coming this November, and as always, we got a hype-as-anything dance number to go along with the announcement. That was certainly entertaining — it always is — but we actually found humor in a different aspect of the segment. This version of Just Dance is coming to the Nintendo Wii. Yes, that machine will not die; not as long as Ubisoft is making Just Dance games. Another year, another Just Dance on the Wii. This may never end.
Advertisement
And finally, we got a sneak peek at a new title coming from the team behind Assassin's Creed: Odyssey. Gods & Monsters didn't tell us much of anything with its brief trailer, other than the fact that we'll be the one the gods turn to when they need help. And honestly? That's a little worrying. Ubisoft seemed confident enough in the title to bless it with a Feb. 25, 2020 release date, and we couldn't tell you a darn thing about it. Hopefully there are some closer looks at this one ahead.
Our E3 fun for today isn't over just yet. Square Enix takes the stage at 6 p.m. PT, so check back then for more.