Latest Red Dead Online Showdown Mode Puts Your Horsemanship To The Test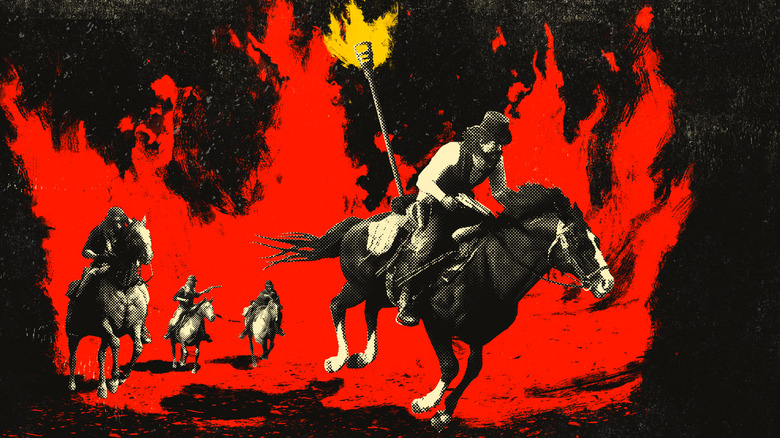 Rockstar has announced the latest Red Dead Online Showdown Mode. In Sport of Kings, two teams of four to eight will battle from the saddle to secure the burning torch and ride through their respective side's signal fires. Players will wield Sawed-off Shotguns in close combat, while rare, single-shot Dynamite Bow pickups will liven up the affair.
Three new clothing items hit the Wheeler, Rawson and Co. Catalogue this week: the Strung Sombrero, the Gibbston Pants, and an all-black version of the Chuparosa Poncho. Handwoven with an embossed leather band, the Strung Sombrero costs $85 in-game and comes in a variety of colors. The hand-cut leather paneling of the Gibbston Pants will set you back $60.50, while the stylish Chuparosa Poncho costs a cool $173.50.
Over the next two weeks, all Rank 10 or higher players will receive a care package filled with Bait and special Arrows. This includes the Poison Arrow, a powerful projectile normally crafted after acquiring a Poison Arrow Pamphlet. Players who have surpassed Rank 20 will get a second care package featuring Provisions and Big Game Meat like the Minty Big Game Meat which grants a Gold Health Core. To help you qualify for the care packages, Rockstar is offering a 30% XP Boost on all activities this week. 
The new mode and care packages follow last week's announcement regarding exclusive Read Dead benefits for PlayStation users. Red Dead Online players with a PlayStation Plus membership will receive special awards every month. Kicking the bonuses off, all PS Plus members who play Red Dead Online by July 8 will receive three free Treasure Maps within 24 hours.
To claim rewards, head to the Post Office or your Camp's Lockbox. Once opened, the Treasure Maps will reveal a new area for you to explore using Eagle Eye. Possible treasure hidden at these locations includes: Gold Nuggets, Cash, Ammo, Tonics, and Crafting Pamphlets.