Super Mario Maker 2 Will Get An Update To Enable Online Play With Friends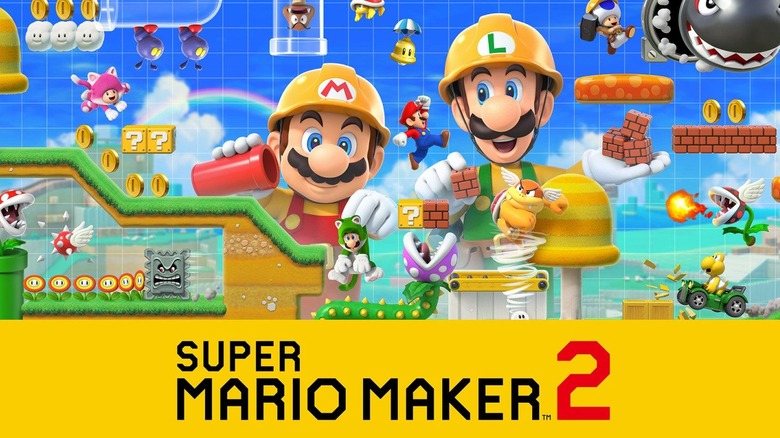 Super Mario Maker 2 adds a lot of features not found in the original, but fans were still rather miffed that Nintendo chose to omit online play with friends. Now it seems the company has a plan to right that wrong.
DualShockers is reporting that Super Mario Maker 2, which launches later this month, will receive an update sometime after its release. And that update will enable the ability to play the game's online modes with friends, ensuring you'll definitely have a way to roll through Super Mario Maker 2's infinite number of levels with your closest pals.
When exactly will the update arrive? We don't know yet. According to Nintendo's Twitter account, the patch is only described as one for the "future," and the company plans to share more information about it later on down the line. But still, this is very welcome news; the kind that'll please those who took Nintendo to task for leaving out what is arguably a no-brainer feature.
Super Mario Maker 2 appears poised to offer a larger and more robust experience than the first did on Nintendo's Wii U and, later, the Nintendo 3DS. There's now a story mode, for instance, as well as a host of new game styles players can utilize to create their perfect Super Mario course. It'll be very interesting to see how just how customizable the game is and just how deep down the rabbit hole players can go with the the tools available to them. Super Mario Maker certainly had a lot of wizards creating some very cool and fascinating things; hopefully we'll see the same thing happen in Super Mario Maker 2.
Especially now that the ability to play with friends will come sometime in the future. Some Super Mario Maker 2 players are bound to make some really innovative levels to account for the extra buddies you'll have.
Super Mario Maker 2 is set to release in just a few weeks on Friday, June 28, 2019. We'll be sure to keep an eye out for more news on the game, and as soon as we know when the online-play-with-friends update has a release date, we'll fill you in.