The Walking Dead: The Telltale Definitive Series Arrives On Sept. 10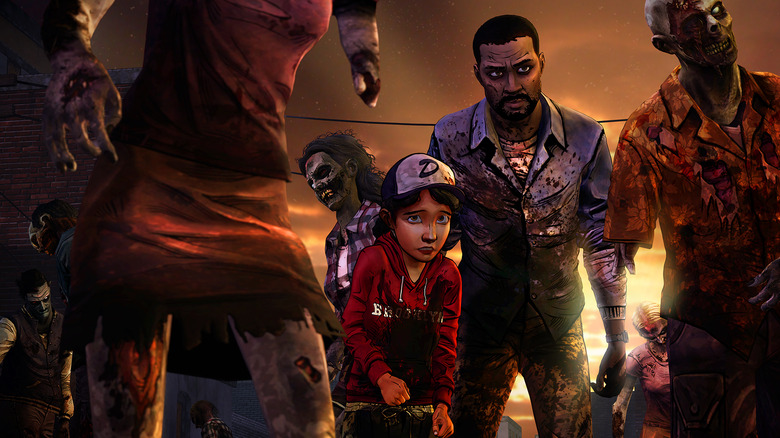 Telltale Games went the way of the dodo bird, and now the adventure game series it was known for is getting ready to say goodbye, too.
DualShockers reports that one final release is coming for The Walking Dead video game series; an anthology that gathers all of the past Walking Dead titles from Telltale and puts a nice new coat of paint on them. It's called The Walking Dead: The Telltale Definitive Series, and it serves as a one-stop-shop for every Walking Dead game developed by Telltale over the company's time in business.
Advertisement
There's the first season. The 400 Days DLC. The second season. The Walking Dead: Michonne. The third season, A New Frontier. And lastly, The Final Season, which was started by Telltale and ultimately finished up by Skybound Games after Telltale closed its doors. All of it comes bundled together with a new graphical style Skybound is calling "Graphic Black," which is supposed to bring the games more in line with the visual style found in the graphic novels, and should at least give those who've already played these games something new to look forward to.
And we won't have long to wait for the Definitive Series, either. It's releasing on Sept. 10 for PC (via the Epic Games Store), PlayStation 4, and Xbox One at a price of $49.99.
Advertisement
That sound you hear, by the way, is millions of Nintendo Switch owners crying out. The Switch has the first season, the final season, and nothing in between. And it appears things are going to stay that way for a while.
We've written in the past about Telltale's games and how the company took on too much, too quickly. Episodic games have largely vanished now, save for Life Is Strange 2, which is still humming along. Final Fantasy 7 Remake is also episodic in a sense, but the way Square Enix is approaching that project is far different than the way Telltale scrambled to get content out for The Walking Dead while its seasons were live. The truth is, Telltale's model wasn't all that sustainable. And while we're sad that The Walking Dead video games are disappearing — at least in the way we've known them prior — it's nice there's at least one all-encompassing collection to immortalize them in a sense.
Now if only there was a Switch version of it.