Latest GTA 6 Rumors Hint At Narcos-Inspired Story And Male Protagonist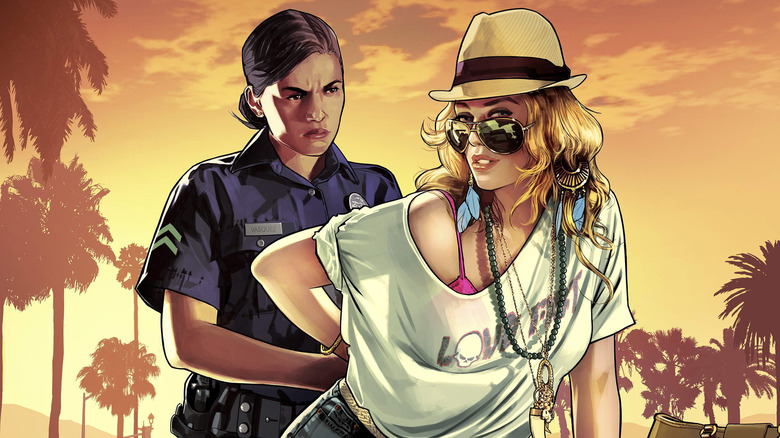 Every few months, a new Grand Theft Auto 6 rumor or leak surfaces, reigniting the fan frenzy for Rockstar's much-anticipated title. From claims about multiple locations to the ability to play as a cop or criminal, the gaming community is abuzz with alleged insider knowledge. Meanwhile, the publisher continues to keep their cards close to their chest, giving little away about the title, including whether it's even in development.
The latest "leak," should it prove true, provides the most comprehensive look at the sixth installment of the Grand Theft Auto series to have surfaced so far. The breakdown originates from Reddit user u/JackOLantern1982, who claims the information came from "two friends who are very reliable and have worked for places such as Kotaku and PC Gamer." According to the poster, their "very dear friend who works for Rockstar" has neither denied nor confirmed the details. Not the most official references, so take the following information with a grain of salt.
The leak makes several claims, including that GTA 6 entered development in 2012, one year before the release of Grand Theft Auto 5. Full development picked up in 2015, though the team's focus shifted to Red Dead Redemption 2 during this period. Set between the 1970s to 1980s, the game, codenamed Project Americas, will purportedly feature two locations: Vice City and a fictional area based on Rio de Janeiro. These details are consistent with past rumors.
Based on the leak, GTA 6 will feature a single, male protagonist named Ricardo. This differs from other long-running rumors about a female protagonist. Ricardo is supposedly "an up and coming drug lord-wannabe," who, based on the presence of a massive prison, ends up in jail at some point. Characters will supposedly speak in their native languages, resulting in a lot of subtitles, and the game will tackle topics like HIV and the immigration crisis. Fans familiar with Netflix's Narcos will find a lot of common ground here, as the series supposedly served as Rockstar's inspiration for the game.
Though rumored to be in development for next-gen consoles, Grand Theft Auto 6 has yet to be announced.