Sony Makes Bizarre Last-Second Change To PS Plus Games For July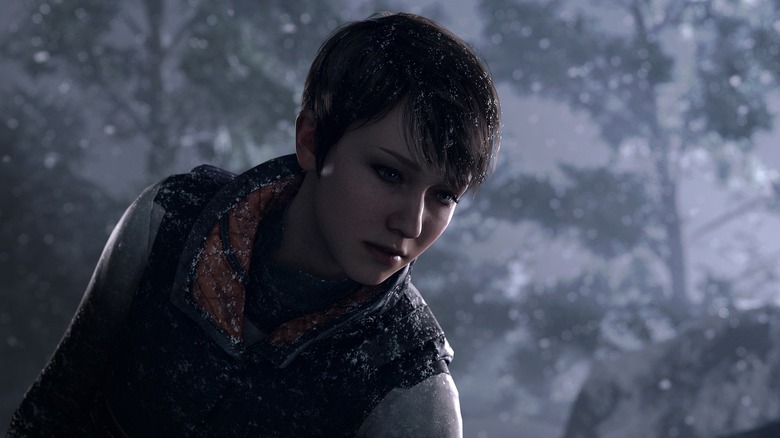 PES 2019 is out and Detroit: Become Human is in. That's the word from Sony today, as the company has rather unusually swapped one game in its July PlayStation Plus lineup out for another.
Eurogamer is reporting that Sony made the switch today, announcing the change via a blog post that — even more strangely — kept all of the old text in place while striking it out.
"We are making a swap to the PS Plus games lineup for July," Sony said in the post. "This month, we are adding Detroit: Become Human Digital Deluxe Edition, which also includes Heavy Rain, to the July games lineup instead of Pro Evolution Soccer 2019. We apologize for any inconvenience."
The post itself is truly something to behold, as it still features all of the text Sony had originally included for PES 2019, but with lines through all the PES-related sentences and sections. And in terms of the wider story — the change itself — we're not quite sure we've ever seen Sony do something like this before. There have probably been changes to PlayStation Plus lineups behind the scenes, and some may have even been announced a few days ahead of time. But we've never seen a lineup suddenly get altered on the day the games were supposed to be released; especially not in such a messy fashion.
PlayStation fans, meanwhile, seem pretty split on the move.
"Detroit?! This month just got so much better! Whatever the reason for this change, thank you PlayStation!" said one comment on the PlayStation Blog.
"Well this is annoying," said another. "I already have Detroit and was actually excited about getting PES. At least provide an explanation for the abrupt, awkward, and seemingly, arbitrary, change."
At this point in time, there's no word on why Sony had to replace PES 2019 with Detroit: Become Human. Was it some kind of licensing issue? Did a deal fall through? We just don't know. If we hear anymore on why the change happened, we'll provide you with an update.