New Borderlands 3 Trailer Shows Claptrap As Pandora Tour Guide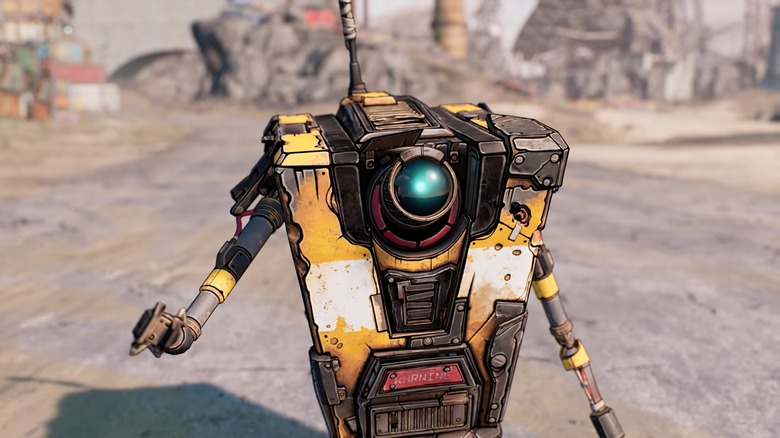 You either love Claptrap or you can't stand him. But in the latest Borderlands 3 trailer, he's all you've got; your one guide to the wildlife found in the wasteland known as Pandora.
PC Gamer reports that you won't gather too much new information from the trailer if you've played previous Borderlands titles. That seems to be fairly accurate, as it's just Claptrap talking about a few monsters while begging cameraman Steve to stop shooting them all. Relaying new info might not be the point, however. The trailer could be just as much about showing off Pandora to newcomers as it is a chance to give the new Claptrap voice actor a bit of screen time. And there's a whole other story to that.
Advertisement
In case you've missed most of the Borderlands 3 news already out there, this Claptrap isn't voiced by the person who brought the little robot to life in past Borderlands games. That man, former Gearbox executive David Eddings, split with the company back in 2017 and has been on pretty bad terms with Gearbox co-founder Randy Pitchford ever since. Instead, a new voice actor named Jim Foronda has stepped in to take Eddings' place, and that move has led to a lot of back and forth between Eddings and Pitchford about not being invited back, pay disputes, and even an accusation of assault.
Add all that to the recently released Borderlands 2 DLC, which apparently includes some plot points that could be viewed as veiled shots at Eddings, and well, you get the idea. Whole thing's a mess.
Advertisement
Fortunately, Foronda has managed to keep himself out of it. And while this trailer failed to show anything new, it did confirm that he's more than capable of voicing the annoying little bugger known as Claptrap. He sounds pretty much the same, and that should make Borderlands fans who've been apprehensive about the change feel a lot better.
If that was the point of the trailer, it did its job.
Borderlands 3 releases for PC, PlayStation 4, and Xbox One on Sept. 13. A version for Google Stadia will arrive sometime later.