Rainbow Six: Siege Heads To The Wild West In New Showdown Event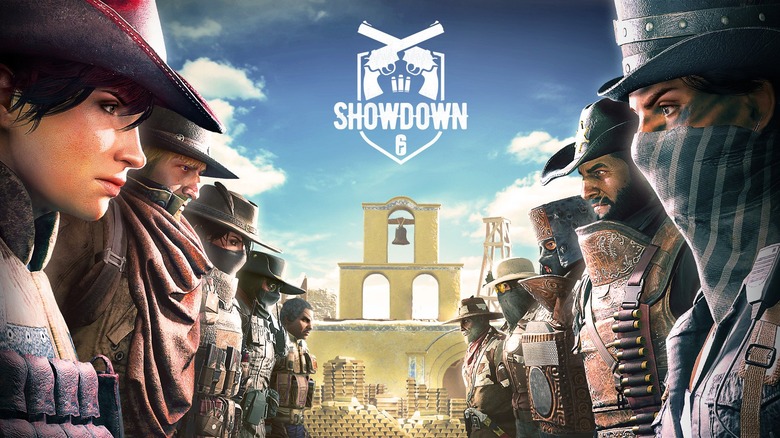 Rainbow Six: Siege has ditched its modern aesthetics and high-tech gizmos for its latest limited time mode, transporting players to the Wild West. 
In the Showdown Event, you'll queue up for 3v3 matches in the battle for control of Fort Truth, a new map created for the promotion. During the match, you'll serve either as an Attacker or Defender as you attempt to shoot your way to victory. "Which side are you on, The Law, or The Lawbreakers?" Ubisoft queried on Twitter. "Face off on the new 3v3 map, Fort Truth, in the Rainbow Six Siege event: Showdown!"
Advertisement
The update also introduces new cosmetic options for Ash, Alibi, Capitao, Caveira, Glaz, Twitch, Maverick, Maestro, Rook, and Kaid. There are 31 new items in total for you to collect, ranging from shotguns to sheriff hats. Each showdown pack, which do not contain duplicates, will set you back 300 R6 credits. By logging in during the event you'll score a free Showdown Collection Pack. You can unlock an additional pack and weapon skin by completing Ubisoft Club Event challenges.
Alongside the in-game event, Ubisoft is hosting the Showdown Throwdown, a contest in which you can win prizes by choosing a side and sharing Showdown gameplay clips on social media. "Out here in this lawless land, gold and gunpowder are the value of your worth," says the official announcement. "So pick a side and swear your allegiance to the ruthless big guns known as #TheLaw or the rowdy #GraveltopGang bandits and compete with other players on social media to be the winning team."
Advertisement
The contest runs from July 2 at 12 p.m. EDT to July 9 at 12 p.m. EDT. You can enter by sharing your Showdown gameplay on social media accompanied by your team's hashtag. The team with the most tagged submissions by the end of the contest period wins. Ubisoft will then select 10 players from the winning team, rewarding them with the full Showdown limited-event collection.
Showdown runs from July 2 through July 16.