Stranger Things Upside Down Portals Now Appearing In Fortnite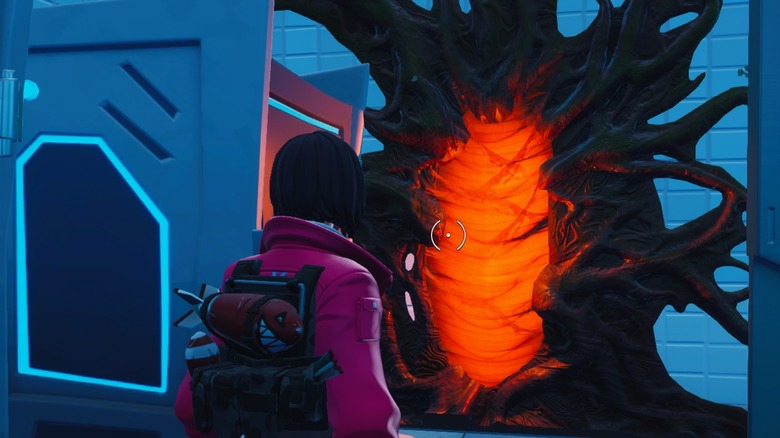 Fortnite appears to be kicking off its Stranger Things collaboration today, as a bunch of Upside Down portals have spawned in the game's world, beckoning players to enter and discover what lies beyond.
The crossover, according to Game Rant, was announced several weeks back. And it arrives just in the nick of time, too. Stranger Things is set to debut its third season on Netflix tomorrow, July 4. So the portals are a timely reminder for fans of the horror series that it's soon making its return.
As for their usefulness inside Fortnite? Eh.
To what will undoubtedly be the disappointment of many, the portals inside Fortnite do not lead into the Upside Down. There's no alternate dimension to explore here. Rather, they simply dump you out through another portal someplace else. Some might find some utility in them, if they're able to figure out which portals lead where. Otherwise, they're just normal portals. They certainly look menacing, but they have no tie to Stranger Things other than the appearance they put on.
It's not the worst tie-in Fortnite's done, but it's definitely not the best.
But aside from reminding you about Stranger Things, the portals might also remind you that the game's ninth season is set to wrap up sometime this month. If you've fallen behind on your Battle Pass, now might be a good time to get in and make some progress. Many of the game's Fortbyte collectibles have been discovered and documented since Season 9 launched, and there should be plenty of challenges available to help you get caught up.
And if you've grown bored with the state of Fortnite, it's worth noting that the game's 14 Days of Summer event is still ongoing, with unvaulted weapons and different limited time modes being featured each day. That runs until July 8, so if you've yet to jump in and take part, you have a few days left to do so.
Fortnite's Season 10 is expected to arrive sometime toward the end of July or the beginning of August. When we have solid details on when that might happen, we'll let you know.