Team17 And Playtonic Games Have Created Their Own Super Mario Maker 2 Courses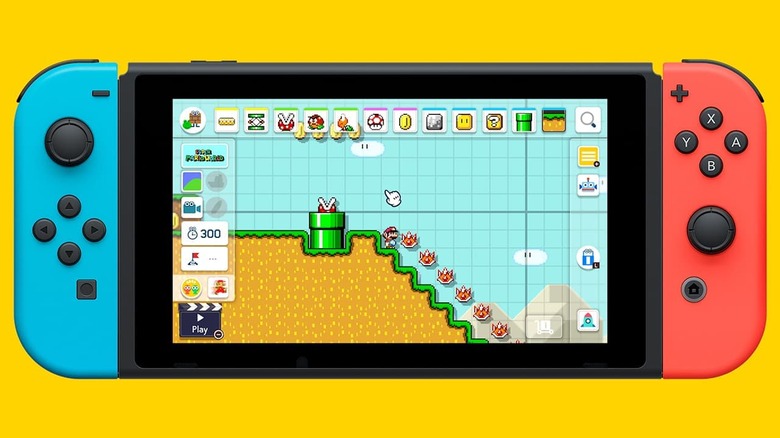 Super Mario Maker 2 has turned hordes of every day gamers into level designers. But did you know that established studios are also using SMM2 to create and share their own courses?
You might be familiar with Team17 if you've ever played Worms or Overcooked. And Playtonic Games is most famous for the Yooka-Laylee franchise, a spiritual successor to the Banjo-Kazooie titles that some Playtonic developers worked on in the past. Team members from both studios have gotten in on the Super Mario Maker 2 craze and started uploading their own courses for the world to enjoy. And now, as reported by Nintendo Life, you can check them out for yourself.
"Spooky Switcheroo" (N00-33V-QRG) is a course created by Team17 composer Danny Hey. "Home Sweet Home" (8W6-6W7-01G) is the product of Benjamin Ellis, who heads up business development at Team17. And the final level, "Treetop Arcade" (Y4S-HT1-SSF) was put together by Daley Kong, director of engagement at Playtonic Games. You might've noticed that none of the people mentioned here are developers; that's by design. The more experienced developers at each studio took a step back to let some other team members shine, and the end result is the collection of levels you see here.
Team17 and Playtonic Games aren't the only studios to take a stab at Super Mario Maker 2, by the way. Matt Makes Games' Matt Thorson — who created both TowerFall and Celeste — has also been steadily uploading a string of Super Mario Maker 2 courses these past few weeks. We're hoping that, as time passes, more developers and publishers follow along and create their own levels for the game. But in the meantime, the creations shared by Team17, Playtonic, and Thorson — not to mention the endless amount of courses uploaded by players — should be enough to keep you busy.
Super Mario Maker 2 is available now on Nintendo Switch.