Ubisoft: Mythology In Gods & Monsters Won't Have 'Limits' Like In AC: Odyssey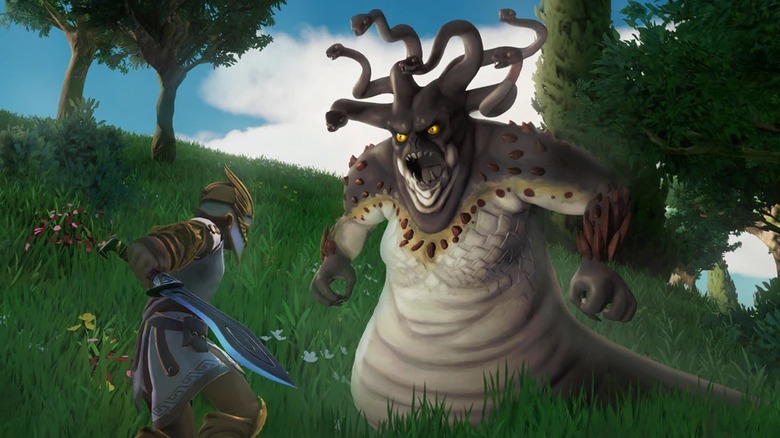 Assassin's Creed: Odyssey was praised for its vast open world and the plethora of content in it, some of which related to Greek mythology. But making an AC game meant the developers at Ubisoft couldn't dive as deeply into those mythological tales as they would've liked.
In Gods & Monsters, a Legend of Zelda-esque action-adventure game being developed by the Odyssey team, that's no longer the case.
"What was cool about diving into a setting like we did with Assassin's Creed Odyssey was that you start to know quite a bit about it," creative director Jonathan Dumont said in an interview published to Ubisoft's website. "We really connected with the mythological aspects of ancient Greece. The gods, the monsters, the legends, the myths are all great, but building an Assassin's Creed game limits what you can tap into."
There was definitely more to be explored, according to Dumont. And thus the idea for Gods & Monsters was born.
"During production," Dumont said, "we started thinking, 'what if we made something that's 100% mythology? We could make a dramatically different game than we did before.' Gods & Monsters really is a brand new type of game for us that is a complete mythological adventure built on the four-year background we have of building a historical Greek setting."
Gods & Monsters will apparently lean hard into mythology. It won't be off to the side as it was in Odyssey, where the game's main story took precedent. In Gods & Monsters, Greek mythology is the story; so much so, in fact, that the Gods & Monsters team is bringing back Odyssey's mythological consultant in order to make sure it gets everything right.
"We're bringing the same rigorous historical approach that we had on Assassin's Creed to this mythological setting," said senior producer Marc-Alexis Côté. "We're really trying to understand those myths, to ensure that we can retell them in a way that is interesting and profound for our players."
We knocked Ubisoft a bit for revealing Gods & Monsters at E3 2019 without explaining a whole lot about it. Now that more information is coming to light, the game has us intrigued.
Gods & Monsters is set to arrive on Feb. 25, 2020. We'll undoubtedly learn more as the game gets closer to release.