Assassin's Creed: Odyssey's Final DLC Drops Today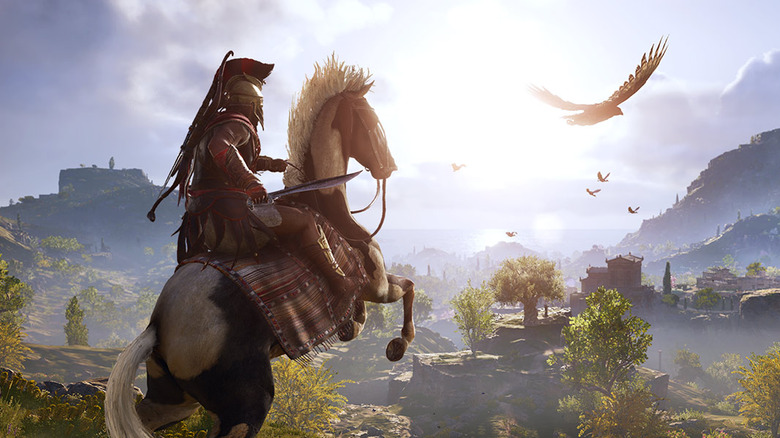 The many tales told in Assassin's Creed: Odyssey will go on thanks to the game's new Story Creator mode. As far as Ubisoft goes, though, the company is releasing the game's last official DLC today.
Judgment of Atlantis, according to Destructoid, is the last DLC episode for Assassin's Creed: Odyssey we'll be getting, and the last one required to bring the game's Fate of Atlantis storyline to a close. You, playing as either Alexios or Kassandra, will travel to the mysterious land of Atlantis, deep beneath the sea. And once you're there, well... you'll have to figure that out for yourself. It's a little too early to be spoiling things. Perhaps this trailer will give you an idea of what to expect.
Advertisement
The Assassin's Creed: Odyssey Season Pass has been nothing short of impressive ever since it kicked off following the game's release last year. Not only have there been multiple expansion story episodes added to the game, but Odyssey has also received new features like the aforementioned Story Creator mode.
And did we mention that the Odyssey Season Pass also includes Assassin's Creed 3: Remastered at no additional cost? The Season Pass itself will run you $40, which is exactly what AC3: Remastered is priced at. So if you own Odyssey and have been thinking about getting Assassin's Creed 3 at some point, you're basically throwing months worth of content away if you don't get the Odyssey Season Pass instead.
Advertisement
It'll be interesting to see where the Assassin's Creed universe goes from here. Will the games continue to blur the line between the AC games of the past and more modern open-world RPGs? Or will Ubisoft accept that RPGs are essentially what Assassin's Creed games have become? We'll likely have to wait some time to find out. The team behind Odyssey is now hard at work on Gods & Monsters, which arrives in February of next year.
Judgment of Atlantis should be available on your platform of choice right now.