Cyberpunk 2077 Will Have Options For Those Who Don't Like Shooters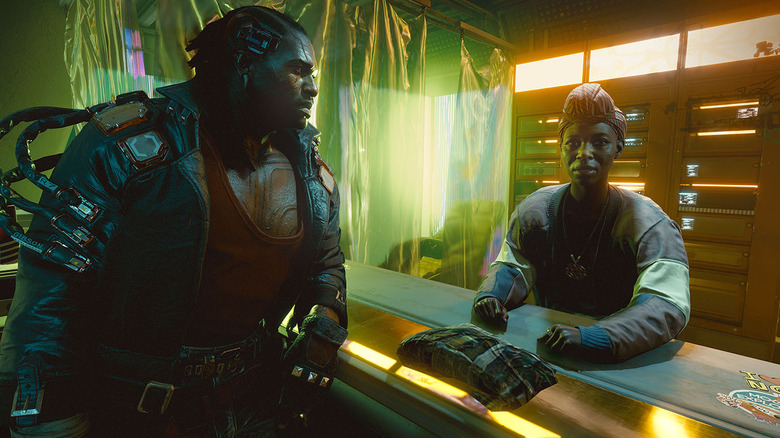 Would you choose watching The Room on repeat over playing any kind of first-person shooter? You're not alone, and Cyberpunk 2077 developer CD Projekt Red knows it.
According to Wccftech (thanks, Push Square), Cyberpunk 2077 will have some options in place for those who don't want a challenging first-person shooting adventure, and just want to experience the game's story. CD Projekt Red's Alvin Liu discussed these options with Wccftech in more detail.
Advertisement
"We want to tell a story and maybe you're a big fan of The Witcher and you're not comfortable playing a shooter, we have settings available for that," Liu said. "We have even have weapons for that. If you recall from last year's demo, we had a weapon called the smart gun, which helps you aim. The bullets were much slower and usually a bit weaker. But if your aiming isn't your forte, you can always pick up the smart gun."
You shouldn't take that to mean Cyberpunk will go easy on you if you want the game to push your limits. There'll be higher difficulty settings, too, including one that completely immerses you in the game, but at a cost.
"The most fun one I think will be the Hardcore setting," Liu added, "where we turn off the UI ... as well. And that will be a real challenge for a lot of players."
Advertisement
It looks as though Cyberpunk 2077 is trying to appeal to a pretty wide audience. The game certainly has a lot going for it, from what we've seen thus far. The fact that it'll be accessible to most players — regardless of their first-person shooting skills — should make those intrigued by CD Projekt Red's next title a little less uneasy about picking it up.
Cyberpunk 2077 comes to PC, PlayStation 4, and Xbox One on April 16, 2020. We'll undoubtedly be seeing more of the game in the weeks and months ahead, so stay tuned.