GTA Online's Diamond Casino & Resort Opens Its Doors Next Week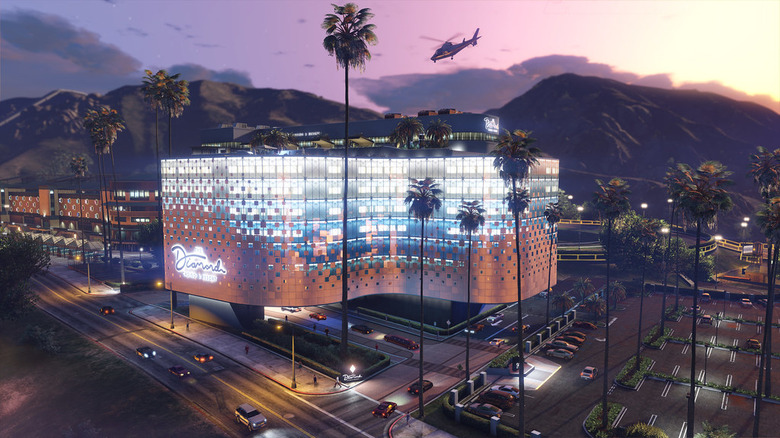 The high rollers of Los Santos are just days away from getting a brand-new place to flaunt their virtual wealth.
GTA Online's Diamond Casino & Resort, which has been teased inside the game for months now, is finally ready for its grand opening. The news comes by way of the PlayStation Blog, where Rockstar announced that the Casino will officially open for business on Tuesday, July 23.
"The massive construction project on the corner of Vinewood Park Drive and Mirror Park Boulevard is nearing completion, radically changing the skyline of Los Santos forever," Rockstar said. "When the brand-new Diamond Casino & Resort opens its doors, one and all are welcome inside to play, or just to stay in the most luxurious residence in the entire state. More than just a place to let go of your inhibitions and your sense of the passage of time, The Diamond is the one-stop destination for quality entertainment, high-end living and a range of experiences you won't find anywhere else."
That's quite the sales pitch, isn't it?
By all indications, The Diamond will offer everything you'd expect a casino to offer. There are various table games, including Three Card Poker, Blackjack, and Roulette. If you're more of a passive gambler, the casino's slot machines ought to do the trick. And we kid you not, the casino will even have virtual horse racing at a lounge called Inside Track. You'll be able to pick out a horse, place your bet, and watch it run its race.
As the internet works itself into a tizzy about loot boxes or surprise mechanics or whatever they're called, Rockstar is over here recreating actual gambling in the world of GTA Online. Amazing.
We suppose the big draw of the Diamond Casino & Resort will be the location's penthouses, as players will undoubtedly want to get a hold of one. It appears there are some story threads tied to the casino itself that players can follow, as well, and those who put in work for the casino's owners can earn themselves "a highly covered, brand-new vehicle free of charge." And really, who doesn't like free stuff?
We'll have an eye on the Diamond come next Tuesday when the doors open and players get their first taste of what the casino has to offer. Should news break then, we'll let you know.