Southwest Gives SDCC Passengers A Rare Treat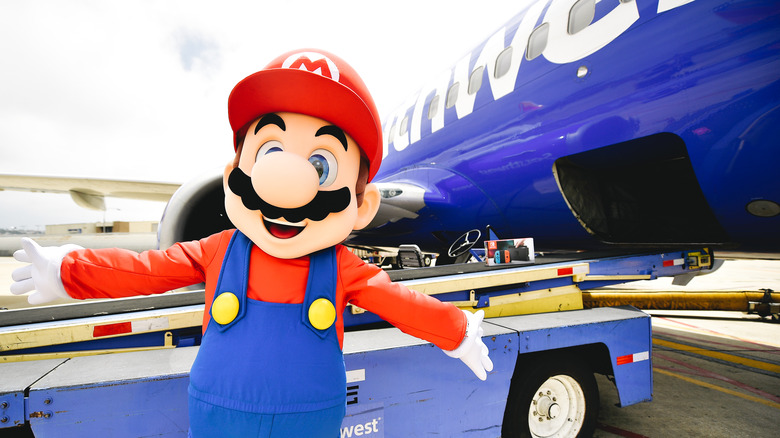 Matt Winkelmeyer/Getty Images
When's the last time you had a truly unforgettable flight? Some Southwest Airlines customers had one yesterday, thanks to a collaboration between Southwest and video game giant Nintendo.
IGN reports that those flying out of Dallas Love Field Airport on their way to San Diego Comic-Con got quite a surprise after they sat down in their seats. The airline attendants, who were already teasing something Mario-related with their Super Mario Maker 2 hard hats, began handing out free Nintendo Switch consoles to everyone onboard, along with complementary copies of Super Mario Maker 2.
Advertisement
"Comic con Miracles happening in the air!!" wrote one flier. "@SouthwestAir gave everyone on my flight to #sdcc a free switch!!"
A Nintendo Switch retails for $299.99, and a copy of Super Mario Maker 2 is priced at $59.99. Some quick research tells us that, if we were to book that same flight next Wednesday through Southwest, the ticket would cost us around $460. So these undoubtedly happy Comic-Con attendees basically paid $100 to fly to San Diego for the event, and got reimbursed for the rest of the trip in the form of a Nintendo Switch and Super Mario Maker 2. That is a pretty solid deal.
According to IGN, this isn't the first tag-team effort from Southwest Airlines and Nintendo, either. The two companies reportedly joined forces in 2013 to present those flying from New Orleans to Dallas with free Wii Us and copies of Super Mario Bros. U to go along with them. And a few years later in 2016, Southwest and Nintendo teamed again to hand out free Nintendo 3DS XLs and copies of Super Mario Maker to those flying from Dallas to Los Angeles.
Advertisement
We imagine Southwest Airlines is about to become a lot more popular with Nintendo fans after this latest giveaway; especially those who are either flying to or from Dallas.
Those attending San Diego Comic-Con can catch Nintendo at the event, where the company will be showing off Marvel Ultimate Alliance 3: The Black Order, which arrives tomorrow.