Sea Of Thieves Team Talks Future Microtransactions, Including Pets And Emotes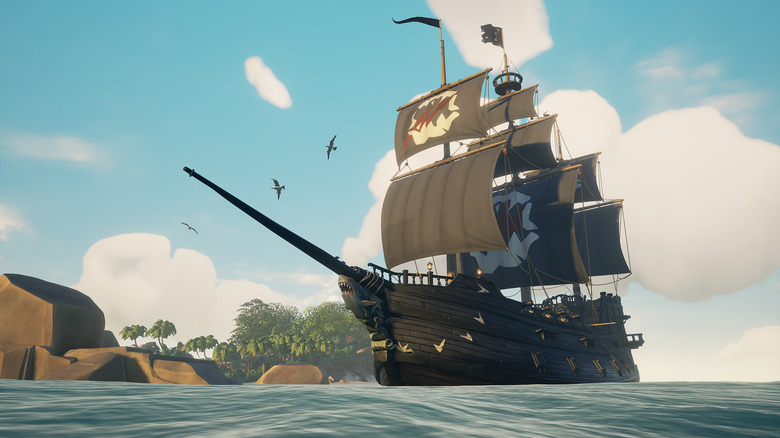 Sea of Thieves is a game largely based around adventuring in the moment. However, players can collect a number of different cosmetics to show off how far they've come. As of now, these cosmetics are free. But not all of them will be in the future.
Twinfinite reports that the folks at Rare have issued a developer update for the title, describing some of the ways the studio plans to monetize Sea of Thieves in the days, weeks, and months ahead. And it appears the current line of thinking is that paid cosmetics will be the fairest and most effective way to generate additional revenue for the game.
Pets are one thing the Sea of Thieves community has been clamoring for, and it sounds as though they're right around the corner as paid cosmetics, according to Rare's Joe Neate. Emotes will also be added to the game as microtransactions, giving players more ways to express themselves or simply goof off while playing. And "special ship cosmetics" are coming, too; these will likely be incredibly popular with players, as they're described as items that "celebrate much loved games and characters."
You can almost bet on there being some kind of Gears-styled sail being sold inside Sea of Thieves at some point. Or perhaps a ship figurehead in the shape of Master Chief's helmet. Rare is likely very excited to get those into the game.
Does it make sense for Sea of Thieves to have paid cosmetics, though? That's an open question. Unlike other shared-world games — say, Destiny 2 – Sea of Thieves isn't about any kind of power progression. You don't complete bounties in Sea of Thieves to gain more powerful loot. You don't grind treasure hunting missions for the perfect roll on your pistol. You do it to acquire the currency needed to buy the cosmetics you want. Suddenly offering cosmetics outside of the normal gameplay loop seems "odd," as Twinfinite put it.
Then again, it's what games like Fortnite have been doing for a while. And they've managed just fine.
Sea of Thieves' new cosmetics will be coming to Xbox Insiders first at some point in the near future. When we learn more, we'll fill you in.