Bugha Wins $3 Million And Fortnite World Cup Title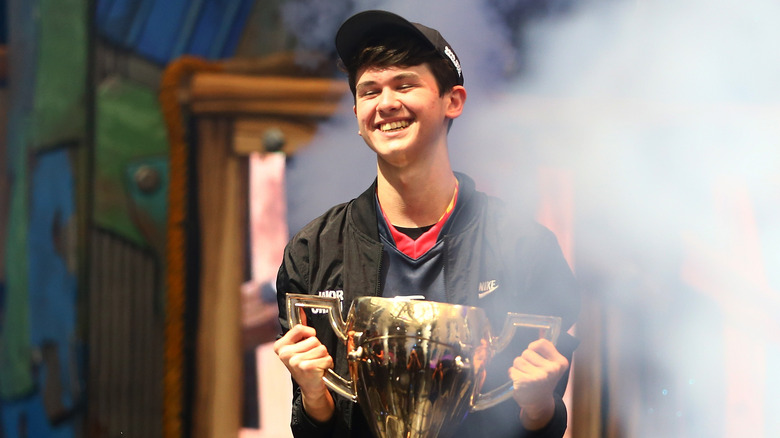 Mike Stobe/Getty Images
Fortnite's newest World Cup champion is a 16-year-old from Pennsylvania, who ran away with the game's season-ending tournament this past weekend and secured not only a trophy, but $3 million for his efforts.
Kyle "Bugha" Geirsdorf used the World Cup event to demonstrate exactly why he was signed to Fortnite's pro Sentinels squad at such a young age. According to Polygon, Bugha's point total at the end of play was nearly twice that of his closest competitor, Psalm. And most of those points came from eliminations, which in Fortnite, carry a lot of weight thanks to the game's one life battle royale rule set.
"Words can't even explain it right now," Bugha said at the end of the tournament. "I'm just so happy."
All players from second through fourth place walked away with over a million dollars in prize money, as well. Those players were Psalm, who finished second; EpikWhale, who finished third; and Kreo and KING, who both tied for fourth. The tournament took place at New York's Arthur Ashe Stadium, with tens of thousands of fans reportedly in attendance to watch these players battle for the top prize.
With the Fortnite World Cup wrapped up, the game's official 2018-2019 competitive season has come to an end. It's unclear at this time when the next season of competitive play will start up, but we can probably expect to hear more about it in the near future. Last season's events kicked off in the fall, so that might be the formula Epic Games sticks to for the next.
The end of the 2018-2019 season also serves to usher in the end of Fortnite Season 9. And you know what that means: Fortnite Season 10 is just days away. When does Fortnite Season 10 start, you ask? You'll get a look at the new season's battle pass and any changes that occur when Season 10 drops on Aug. 1.