No Man's Sky: Beyond Finally Gets A Release Date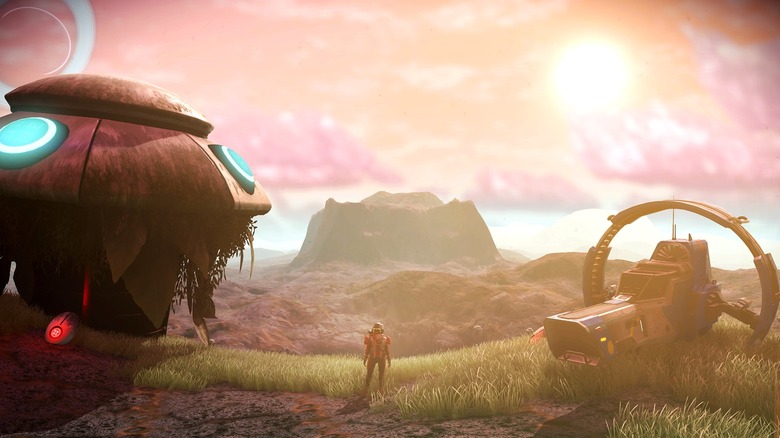 We've known about No Man's Sky's Beyond update for a while now. What we haven't known, however, is when we'd actually get to play the thing. Today we finally got the news.
Hello Games founder Sean Murray broke the story on the PlayStation Blog this morning, announcing that No Man's Sky: Beyond is set to launch on Aug. 14. According to Murray, "Beyond will contain three major updates rolled into one larger free release," and if you're a No Man's Sky owner who wasn't thrilled about the way the game launched, some of these new features might do a lot to mend the fences.
To start, No Man's Sky is getting a significant upgrade on the social side. You might remember the flack Hello Games received when the game released, as players who were definitely in the same place couldn't even see each other, despite promises to the contrary. That issue's since been rectified, but the developer is now taking things even further by offering a complete overhaul of the social side of the game. In his post, Murray talked about how some of the moments players enjoy most are running into each other randomly in the No Man's Sky universe, and it seems the team wants to focus in on that with a "radical new social and multiplayer experience which empowers players everywhere in the universe to meet and play together."
And VR is finally coming to No Man's Sky, as well. The game seems like a no-brainer for virtual reality, with its many planets to explore and sights to see. Now it'll have it on both PC and PlayStation VR. Xbox One fans, this portion of the update probably won't do much for you. But who knows: Project Scarlett drops in Holiday 2020, and that seems as good a time as any for Microsoft to finally bring VR to its home consoles.
We'll have our eyes on No Man's Sky: Beyond to see how fans take to it when it comes to PC, PlayStation 4 and Xbox One in a little less than two weeks. Until then, stay tuned.