Grand Theft Auto's Original Name Was Much Different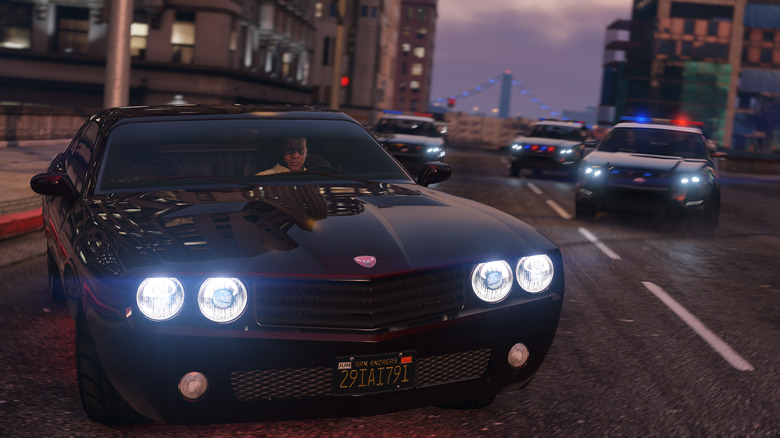 In the two decades since its debut, the Grand Theft Auto franchise has grown into one of the best-selling video game series of all-time. Grand Theft Auto 5 alone has sold over 100 million copies, topping the charts month after month and raking in $6 billion in revenue. Bolstered by this success, Grand Theft Auto has turned into a household name; however, the series started out with a much different title.
"The original name we came up with was Race'n'Chase," revealed DMA founder and Grand Theft Auto designer Dave Jones. DMA, which would later become Rockstar North after its acquisition by Take-Two, pitched the concept to publisher BMG Interactive. The initial idea spawned from the company's engine, which could simulate a bird's-eye view of a city.
"The parallax movement of the buildings gave a great sense of speed and height, especially when the camera was attached to a car and pulled back the faster you went," explained Jones. "For me it opened up the possibility of a great setting for an over-the-top police/chase/action game, as you could simulate a chase-copter type view, and hopefully create a living breathing city in which to play."
The name Race'n'Chase, a very literal take on the project's core concept, changed to Grand Theft Auto soon after DMA struck an agreement with BMG. Originally planned for an 18 month development cycle, the game took about 30 months to complete. Because of the trademark chaos players could unleash on the world, DMA had to test and adjust every new feature to see how they interacted with each component of the game. 
According to former DMA creative director Gary Penn, Race'n'Chase started out as a linear, mission-based game of cops and robbers. "That evolved into Grand Theft Auto and it was a real mess for years, it never moved on, it never went anywhere," Penn told Gamasutra. "The publisher, BMG Interactive, wanted to can it."
Thankfully, DMA overcame these issues, which ranged from stability problems to "appalling" car handling, creating a game that would one day transform into a multi-billion dollar empire.