Ninja Now Has More Subscribers On Mixer Than He Did On Twitch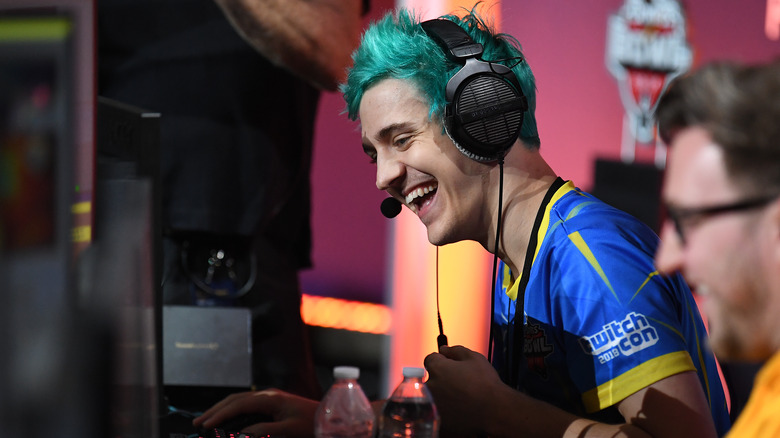 Robert Reiners/Getty Images
After skipping out on Twitch to stream on its rival, Mixer, Tyler "Ninja" Blevins is off to a roaring start on the platform. He can now say, emphatically, that he has more subscribers on Mixer at this moment than he ever did over on Twitch. But there's a very good reason for that: one we'll fill you in on.
Advertisement
Eurogamer reports that Ninja has blasted his way to 500,000 subscribers on Mixer, which is an unbelievable amount in such a short period of time. Considering Ninja only had around 15,000 subscribers over on Twitch — which still adds up to around $37,500 a month — that's quite the upgrade.
Ninja celebrated the subscriber milestone by indulging in a little cake eating on his stream last Friday. But if you're thinking that almost half a million people are paying for the privilege of subscribing to Ninja, well, you'd be mistaken.
As part of Ninja's move to Mixer, Microsoft offered fans a chance to subscribe to the streamer for free via a promotion that's still running at the moment, and will continue on through Sept. 30. Every person who visits Ninja's Mixer page is greeted with a banner offering a one-month subscription at no cost, granting them access to exclusive emotes and the like. The promotion is probably helping Mixer as much as it's helping Ninja, as it gives transplanted fans from Twitch a chance to see what being a subscriber on Mixer is like. And frankly, it makes Mixer seem far more lively than it usually is. The service has a much smaller viewership than Twitch and even YouTube when it comes to live content.
Advertisement
In terms of money, though, it's unclear at this time how much money Ninja is making by coming to Mixer. The Verge's Tom Warren tweeted that the streamer's deal with Mixer was worth around $50 million, and that itself is a hefty sum. But there's a real question about whether or not Ninja is making money off of the free subscriptions Mixer is giving away on his behalf, or if those costs are baked into his deal.
We also don't know if Ninja's Mixer viewership will pay as handsomely as it did over on Twitch. Both Twitch and Mixer pay CPM rates for views on their respective platforms, though Mixer doesn't run ads. But can Ninja sustain that viewer count? He was averaging rougly 65,000 viewers last Friday, according to IGN; much higher than his typical 40,000 concurrent viewers on Twitch. But that's likely because he'd made a big announcement and it was his first day on a new service. Should those numbers wane, he might not see quite as big a payday.
Ninja also left Twitch with nearly 15 million followers on the platform. That's a whole lot of reach compared to the almost 650,000 he has on Mixer now, so one could argue he's leaving a lot of other money-making opportunities behind. That 650,000 number might not be as attractive to sponsors as 15 million, for instance. And the opportunity to participate in Twitch-related events is pretty much out the window now that he's streaming exclusively on Mixer. Twitch even took over his page on the service, stealing a line from Super Mario Bros. to let fans know that Ninja "is in another castle." Did they say which castle? Of course not.
Advertisement
But Ninja could end up doing just fine in the end. After all, $50 million in the bank doesn't hurt. And on Mixer, he now gets to be the face of an entire streaming platform. He doesn't have competition from the likes of Dr. Disrespect or any of the other big-name streamers over on Mixer. He is the sole giant in the place, and seems destined to become the most-followed and most-subscribed-to Mixer streamer at some point in the future. You can liken it to cable; Fox next to ABC, NBC and CBS doesn't stand out quite as much. Fox in a lineup with a bunch of public access channels? It'll probably be what most people are tuning in to.
We'll be keeping a close eye on Ninja's Mixer channel to see how things are coming along. If more news comes out about his deal with Mixer — or if we're able to get some sense of how much he's making via other avenues — we'll be back with an update.