Who Is Ninja's Wife And How Did They Meet?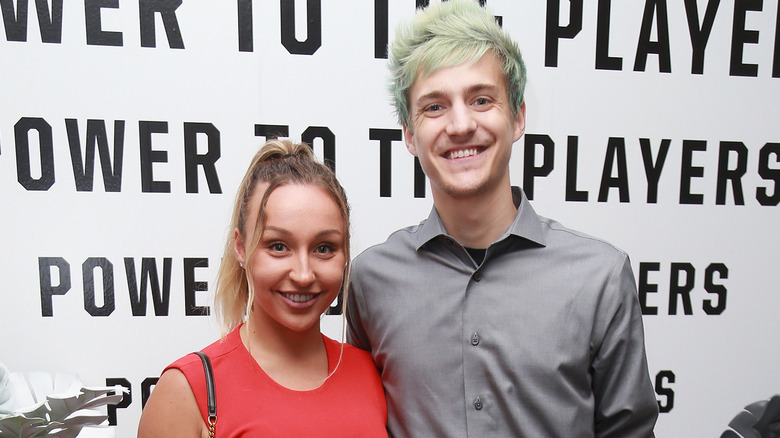 Leon Bennett/Getty Images
Tyler "Ninja" Blevins married his long-term girlfriend Jessica Goch in a private ceremony in August 2017. Before that, Jessica spent years helping Tyler build his career as his business manager, a role she continues to occupy. 
Advertisement
Though many assume Jessica's interest in gaming resulted from her husband's career path, she spent most of her childhood playing video games, including Mario, Pokemon, and titles from the Mortal Kombat series. She carried this obsession into her college years at the University of Wisconsin, where she earned a bachelor's degree in Interpersonal Communication and Public Relations. 
Leveraging her degree, Jessica worked as a brand ambassador for the gaming and tech focused Cyber Solutions Agency. She later moved to Ubisoft, representing the company at gaming conventions before spending over two years as a sales representative for the Plantronics Back Beat Fit headset.
Jessica and Tyler's shared passion for video games eventually brought them together. In 2010, Jessica's boyfriend at the time invited her to attend Focus Fire, a Halo tournament in La Crosse, Wisconsin. The two broke up the week before the tournament; however, Jessica still went despite a three and a half hour drive through a raging snowstorm. After overcoming the elements, Jessica met Tyler, another tournament competitor who she formed an instant attraction to. As Tyler had a girlfriend, the pair maintained casual contact throughout college. About three years after their initial meeting, they reconnected and started dating.
Advertisement
Jessica's star has risen alongside her husband's. To better understand his lifestyle, she started her own Twitch channel in October 2014. Though she started out streaming games like Spider Man and Minecraft, Jessica later transitioned to an IRL format, doing a couple of cooking streams per week. As of August 2018, she had shot over 200 videos, amassing 320,000 followers. Her channel, JGhosty, seems to have disappeared from Twitch, likely due to Ninja's decision to stream exclusively on Microsoft's Mixer.