The Hype Is Real For Capcom's Gamescom Announcement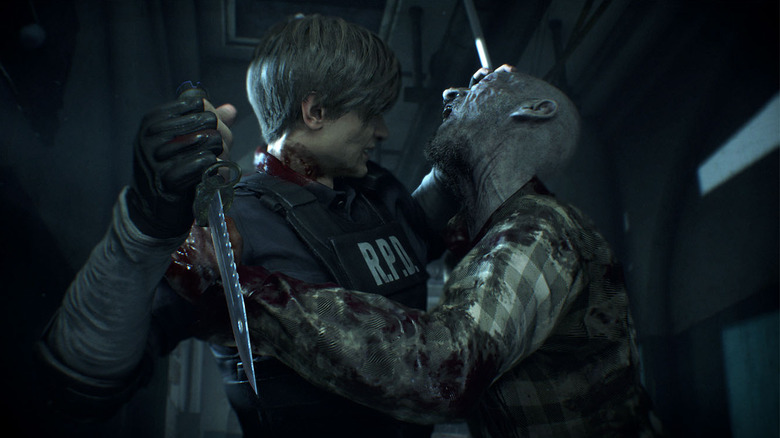 Could Capcom have a new Resident Evil game in the works? That's the hope, now that it's been confirmed Capcom is attending this year's Gamescom in Cologne, Germany.
Gamescom Opening Night host Geoff Keighley tweeted out a graphic today, which contains a list of publishers that'll either be premiering new content or making announcements at the conference (via Game Rant). One of the names on the list happens to be Capcom, and with many believing Capcom's hard at work on a new Resident Evil title, the publisher's attendance is getting a lot of fans excited.
It's also been reported that Capcom invited members of Japan's Resident Evil Ambassador program to try out a new game recently. And if it wasn't a Resident Evil game, that would be a little weird, wouldn't it?
Put the two together and you have Resident Evil hype. We have to apologize, though, because here's the part where we throw the tiniest bit of cold water on this.
"World premiere content" doesn't necessarily have to mean Capcom is showing off a new game. And an announcement could just as easily be one about an existing title as it is a new one. Capcom has Monster Hunter World: Iceborne on the way, and with Gamescom taking place a few weeks before that expansion's Sept. 6 release, it might not be a bad time for an exclusive look at something never before seen.
Capcom could also throw us a curve by announcing something entirely unexpected. There could be a new IP on the way, for instance. Or the publisher could announce a new entry in a completely different series. A new Phoenix Wright: Ace Attorney title wouldn't be crazy, considering the original trilogy just came to PC, PlayStation 4, Xbox One, and Nintendo Switch in April.
It's entirely possible that Capcom could announce a new Resident Evil at Gamescom. It just might be a good idea to not get your hopes up about it, lest you look like a Diablo fan after that mobile game got announced.
We'll keep you up to speed if we hear more about what Capcom's cooking up for Gamescom.