Free Nintendo Switch Games That Are Actually Worth Playing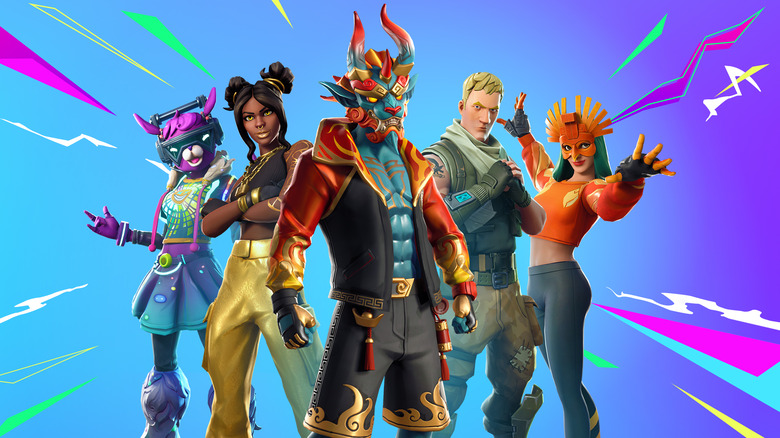 Let's say you just bought a Nintendo Switch, and you spent a little extra on one or two games. Those might keep you busy for a while, but what happens once you've beaten them? You can either spend more money on games, or you can just play these free titles, which are very much worthy of a download.
Advertisement
First off, Fortnite. If we're talking about free Nintendo Switch games that are actually worth playing, we can't have a list without the hottest game out right now. Fortnite won't cost you a dime to download, and even better, you can actually earn some in-game items without handing over $10 for the game's Battle Pass. Some people might own a Nintendo Switch just for Fortnite, and that's saying something.
Next up, Warframe. Imagine if something like Destiny were on the Nintendo Switch, but instead of being an undead, magic-wielding zombie, you were an ultra-cool space ninja. That's the difference between Destiny and Warframe; otherwise, you're chasing loot, grinding out missions, and shooting bad guys all the same. Only in Warframe, you're doing it for free.
Advertisement
Not ready to buy Super Smash Bros. Ultimate just yet? Brawlhalla might be worth a look. It's a free-to-play platform fighting game that seems to draw a lot of inspiration from Smash, and even includes some outside characters from some very strange places. Only in Brawlhalla can you match Rayman up against The Rock. That is Brawlhalla in a nutshell.
And finally, three more games, which we'll refer to as the Hi-Rez Trio (all are developed by Hi-Rez Studios): Realm Royale, Paladins, and Smite. Realm Royale is a battle royale title similar to Fortnite in some respects while differing in others. Paladins is a hero shooter very much in the vein of Overwatch. And Smite is a MOBA that eschews a top-down view, instead putting you on the ground where the action is. All three games are free, all three support cross-save and cross-progression (so you can play against other platforms and make progress anywhere), and all three are very much loved by their fans. Check them out.
These are the free Nintendo Switch games that are actually worth playing. Should more come along, we'll add them to the list.