Sea Of Thieves: Dark Relics Update Adds New Voyages, Rowboat Harpoons, And Chests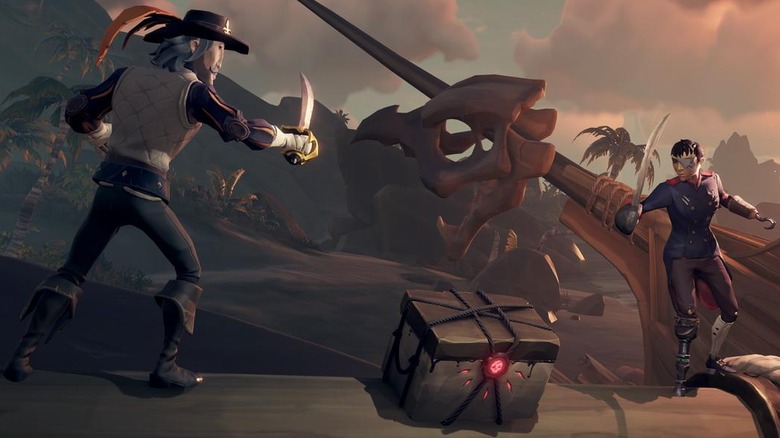 Sea of Thieves has released another update, complete with new objectives, cosmetic items, quality of life improvements, and rowboats with Harpoon guns.
Titled Dark Relics, the update draws its name from a collection of powerful artefacts stolen from the Order of Souls by a crew of skeletons. Hunt down at least one of each Relic type — the Enchantment Vessel, Hexing Skull, Evil Eye, Mutinous Effigy and Bewitching Doll — to earn special Commendations.
"The Order of Souls is very troubled that the skeletons have swiped these Dark Relics and escaped into the night – who knows what they have planned for such power? So Duke has been entrusted with retrieving all the Relics, after rebuilding his relationship with the Trading Companies last month," says the official description.
Duke will offer Dark Relic Voyages to The Shores of Plenty, The Ancient Isles and The Wilds throughout the month. Pirate Legends also have access to dedicated Devil's Roar Voyages which, though more dangerous, offer higher Relic rewards. These Athena Voyages cost 10 Doubloons. Those who take part in the search can unlock Mercenary Commendations, the new Relic Hunter and Relic Collector Titles, and purchase the Mercenary Cannon, Mercenary Wheel and Mercenary Capstan ship cosmetics.
Dark Relics introduces Reaper's Chests. You can locate these chests by keeping an eye out for a pillar of light on your travels. Once retrieved, the Reaper's Chest will appear on the ship's map of all rival crews so proceed with caution. Duke will pay out Doubloons for any Reaper's Chests you bring him. After the Dark Relics update ends, they will remain in the world as emergent encounters.
The latest update comes with several other features, such as Harpoon guns for rowboats, more responsive hit detection, and Arena matchmaking improvements. Check out the Release Notes for a full list of additions and changes.
Sea of Thieves: Dark Relics is now live on Xbox One and Microsoft Windows.