Fortnite Season 10 Week 1 & 2 Battle Star Locations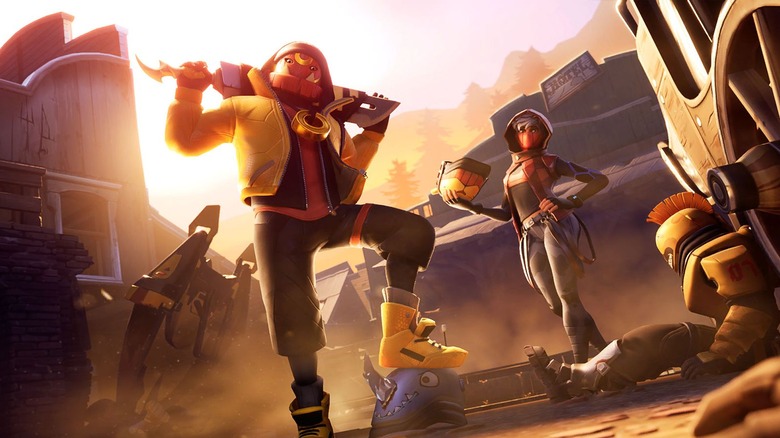 As is often the case with large updates, Fortnite's tenth season got off to a bit of a rough start. One of the key changes involved the distribution of loading screens, which, in previous seasons Epic handed out as rewards for finishing each week's lineup of challenges. 
Players can now earn loading screens through limited-time missions, a format that has replaced daily challenges. By completing three limited-time challenges within a week, you'll unlock a loading screen with the location of a new Battle Star hidden within it. Just follow the clues to collect that week's prize. At least, that's how it's supposed to work.
A curious glitch that popped up at the start of the season prevented Fortnite players from collecting their hard-won rewards. Though many deciphered the references in the loading screens and travelled to the correct locations, they found nothing waiting for them there. This bug affected both the Fortnite Season 10 Week 1 and 2 objectives. Thankfully, the v10.10 Patch seems to have fixed the problem.
If you completed three objectives during Week 1 and unlocked the B.R.U.T.E Squad Loading Screen, you can spot the Battle Star coordinates on the dumpster in the top right corner. Reading "D2, D3, E2 and E3," the coordinates point you to you to an area just south of the Block. You'll find the Battle Star on a bare spot in the grass near the dirt pit filled with rocks.
For Week 2, you must complete three objectives to unlock the Shootout At Sundown loading screen. This time, Epic has placed the clue in the top left corner, where you can see a fork and knife carved into the side of the building. To collect the Battle Star, head to the iconic the Fork and the Knife in the southern portion of the map, just above Fatal Fields. You'll find your prize nestled between the two utensils on a patch of exposed earth.