Puzzle-Platformer Fez Free On Epic Games Store Starting August 22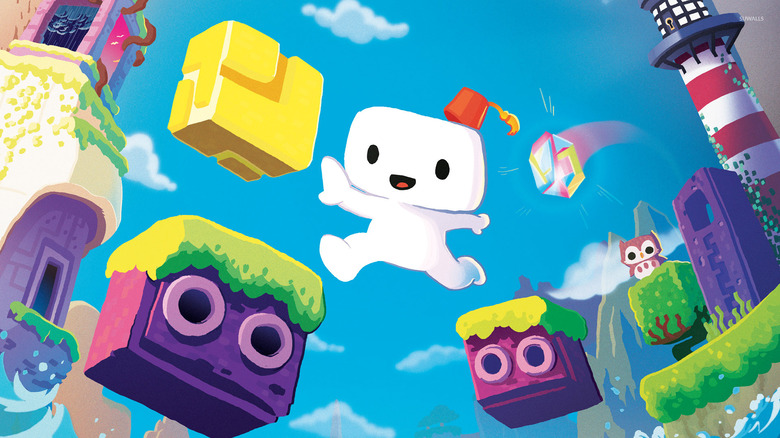 Epic Games has announced the next title slated to join their lineup of free weekly games: Polytron Corporation's indie puzzle-platformer, Fez.
Fez places you in the role of Gomez, who, upon receiving a magical hat, discovers that his 2-D reality makes up one of four sides of a three-dimensional world. You'll rotate between these four 2-D views to advance through the game, re-aligning platforms and solving puzzles. Your objective? To restore order to the universe by collecting cubes and cube fragments. Gomez traverses the game environment by jumping between ledges, with Fez's other platformer elements changing with the level themes.
The game rewards exploration with a variety of codes, glyphs, treasure maps, secret rooms, and strange artifacts left behind by an ancient civilization. Unlike traditional platformers, Fez centers on puzzle solving, patience, and curiosity rather than dexterity, and does not punish you for failing. "It's a 'stop and smell the flowers' kind of game," said lead designer Phil Fish.
Fez launched to critical acclaim on Xbox Live Arcade in 2012 and received more high remarks following its subsequent releases for Windows, Linux, PlayStation, and iOS. It sold almost 20,000 copies on its first-day and went onto move over one million copies by the end of 2013. 
"Fez is the most authentic exploration of the NES era of games that I've ever played, from its sound and visuals to its obtuseness," remarked Polygon's Arthur Gies. "It uses the capabilities of current systems to take those ideas further, while limiting itself with specific intentions, deploying scrutability in bits and pieces. It doesn't just love the games it borrows from — it understands them."
Fez will be available for download in the Epic Games Store from August 22 through August 29. The game replaces this week's double feature, Hyper Light Drifter and Mutant Year Zero: Road to Eden.