Rockstar North Removes RDR2 Banner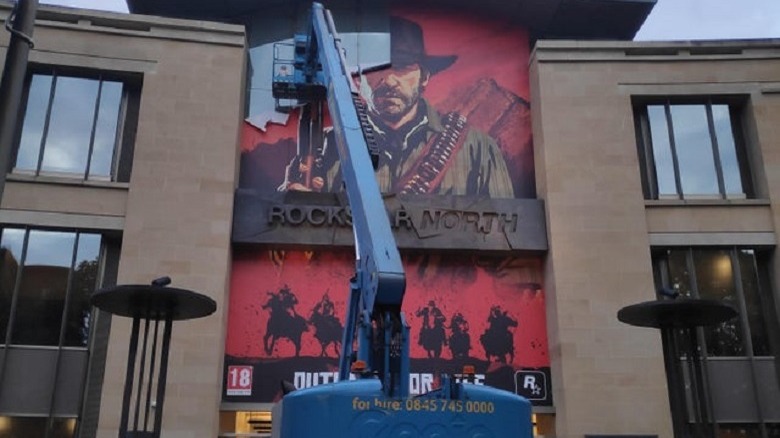 Reddit: TheTimon2222
Did you know Rockstar North hangs outdoor banners for the games it works on? It does: right over the studio's front windows. It seems the Red Dead Redemption 2 banners have been taken down recently, leading many to suspect that another game announcement is on the horizon. And of course, people are already speculating about what that next game could be.
The news comes courtesy of Reddit user "mrweeks19," who snapped a photograph of the RDR2 banner being taken down back on Aug. 8. The post didn't get much traction at that time, garnering only 54 upvotes. But things have picked up in the past few days, with Edinburgh Online and a few gaming outlets seizing on the story and wondering if the removal of the banner means something more.
Some believe the removed art could be a signal that a Grand Theft Auto 6 announcement is coming. Rumors have been swirling around that title for years, though we're not even sure that'll be the name of the next GTA. Other Rockstar followers have high hopes that the pulled-down banners could be making way for Bully 2, another heavily rumored game that, for now, only exists in the hearts and minds of fans.
There are even some faint calls for a sequel to Rockstar Games Presents Table Tennis, though we think those people are probably kidding.
One Reddit user, however, isn't buying any of it. All the attention being paid to a banner being removed from a building? This person doesn't think it's worth hyping up. In one short-and-sweet sentence, the Reddit user explained why they believe Rockstar North is doing away with the banner. And honestly? It sounds like the kind of reasonable that has no business existing online.
"They might just want their windows back."
We'll be sure to update you if we hear more about Rockstar North's next project.