Here's A Small Peek At Google Stadia's In-Game Overlay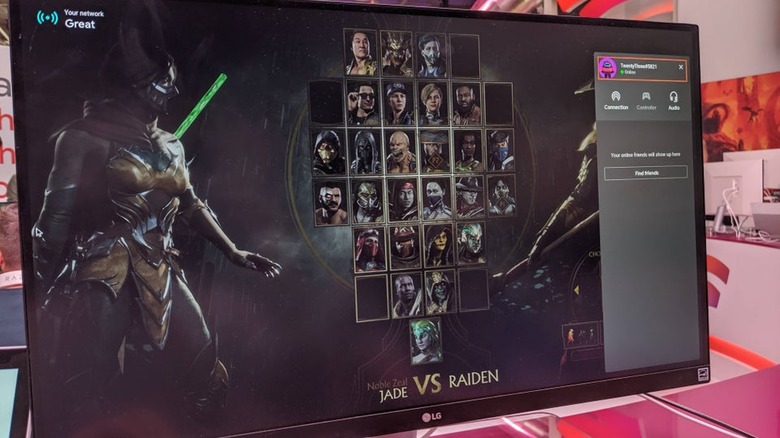 Reddit: S3basuchian
Google has talked an awful lot about its Stadia game streaming service, but the company hasn't shown us all that much yet; unless you happened to attend Gamescom, that is. There, attendees could go hands on with Google Stadia games and could apparently take photos. So one did just that.
The above image comes courtesy of Reddit user S3basuchian, who shared a look at what happens when you press the Stadia controller's logo button while playing a game. Over on the left-hand side of the screen, you can see an overlay has come into view that shows a player's username and profile image, their online status, and menu options for Connection, Controller, and Audio. The rest of the space in the overlay appears to be reserved for the Stadia friends list. Unfortunately, the account being used is likely for demo purposes, so instead of friends, the space displays a "Find Friends" button instead.
Also worth noting: network connection quality is shown in the top-left corner. This will come in handy if players start encountering lower resolutions or skipped frames and need to determine if their WiFi is at fault.
According to S3basuchian, the Stadia instance they played at Gamescom was being demoed on a Google Pixelbook, presumably using the Chrome browser. And in case you were wondering how Mortal Kombat 11 played on the platform, S3basuchian had a bit to share about that, as well.
"I didn't experience any lag. Although I never really played MK very good[.]"
That's a promising development! One could argue that fighting games and first-person shooters are going to be the real test for Google Stadia, as both genres rely on quick inputs. We'll have to wait until some fighting game die-hards play MK11 on Stadia before we know for sure, of course. But it's at least nice to hear that latency wasn't noticeable during play.
Google Stadia's Founder's Edition launches this November and can currently be pre-ordered for $129. Google Stadia Base — the service's free tier — will arrive sometime in 2020.