The Real Reason We'll Never See Kazuma Kiryu In Tekken 7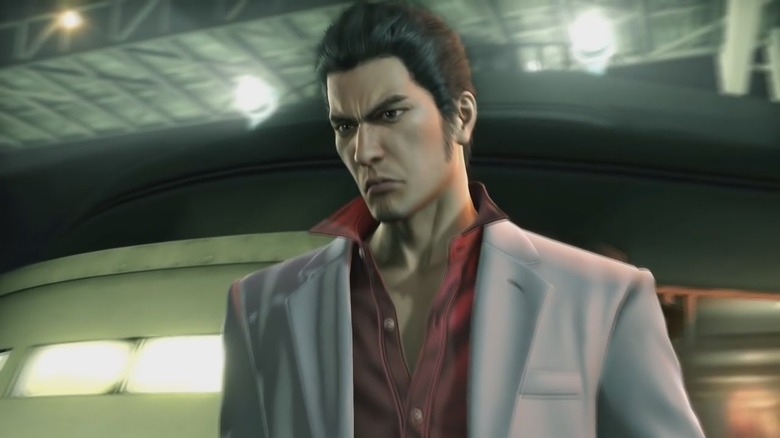 Kazuma Kiryu — the star of Sega's Yakuza series — has a newfound popularity in the West thanks to a number of Yakuza remasters. But some fans of Kiryu want more than some prettier versions of past Yakuza games. They want to see him bring his martial arts skills to fighting games; specifically, Tekken 7.
Unfortunately, we don't think that's ever going to happen.
Despite Tekken 7's roster featuring many characters from outside the fighting game's universe (including some from other fighting games), it's tough to imagine Sega agreeing to such a move. For starters, the Yakuza series has never been hotter. This wouldn't be some classic console character getting tossed into the mix; this is Kazuma Kiryu, the seven-game Yakuza star who arguably embodies what the new Sega is all about. They're not just going to give Kiryu to anyone.
On top of that, we have to be nearing the tail end of Tekken 7's roster additions (if we're not there already). Tekken 7 has been out for well over two years now, and we're staring down the barrel of a new console generation. Unless Bandai Namco plans on porting the game over to the next PlayStation and Xbox consoles, it's likely the company might be hoping to introduce a new version of Tekken for those platforms. Maybe there's a chance we'd see Kiryu in that game someday. But now? It feels like we're either running out of time or the clock's already expired.
Yakuza fans nearly rioted a year ago when Tekken 7's Season Pass 2 added The Walking Dead's Negan instead of Kazuma Kiryu. The game hasn't added any DLC characters since, and there's a good chance that won't change going forward. While that means you probably won't be seeing Kiryu show up in Tekken 7, there's always the next one.
Or maybe Sega will revive Virtua Fighter and add Kiryu to that roster. Stranger things have happened.