The Easiest Way To Win Big Money In GTA Online's Casino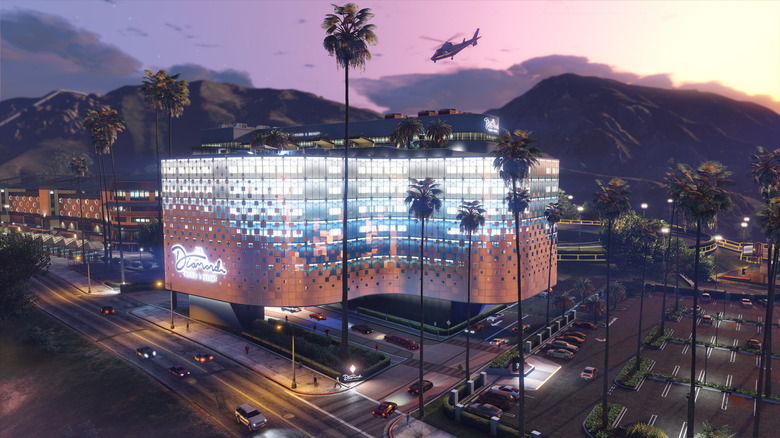 You've just entered GTA Online's new casino. You're looking to make some fast money so you can buy all of those awesome Grand Theft Auto goodies. The problem? You don't know what to play. You want the easiest way to win big money in GTA Online's casino. We think we can help.
To start, let's clear up the misconception that there's a guaranteed way to win anything in the Diamond Casino & Resort. There isn't. What we can do, however, is point you toward the games with the best odds. If you play those — and you're lucky — you can beat the house and go buy that expensive new car. You may also lose. So please don't blame us if you end up broke in GTA Online. We warned you.
Now, the games.
According to the folks on Reddit, horse racing is a good place to start. User Miles_Vaughan believes you should "bet low amounts until the 1st horse has odds such as 1/3 or 1/4 and then bid a lot because most likely they will win." That sounds risky, but Miles appears to have a system that works, so it might be worth trying.
User MakeTheEnvironment thinks you should stick to roulette and bet on the 1/3 options, which are the columns of 1-12, 13-24, and 25-36. "The return is better tha[n] red or black," they say, and it's true; you'll get three times your bet back as opposed to two times, and you're not stepping your odds too far down in order to make that extra money.
And lastly, mmmFries supports putting your skills to use. Are you a skilled blackjack player? Then don't leave everything to fate. Put those blackjack talents to the test and you should walk away with enough money to buy what you're after.
Those are the easiest ways to win big money in GTA Online's casinos according to those who play the game. Good luck.