Fortnite's Crossover With Borderlands Is Every Bit As Weird As You'd Expect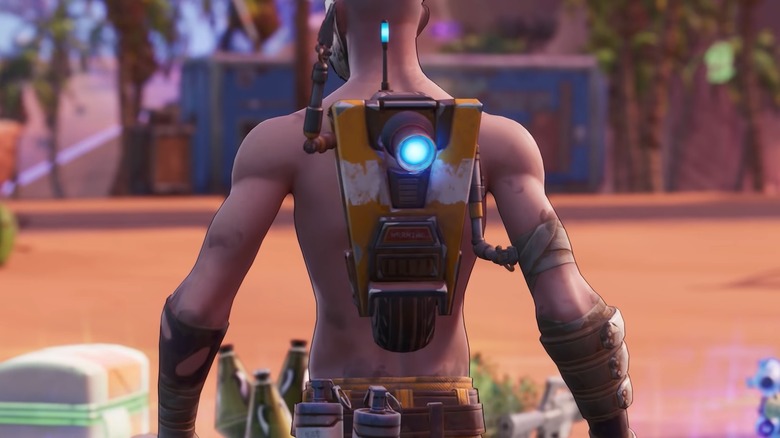 Fortnite is no stranger to crossovers, having done deals with the Avengers films, Stranger Things, and even the NFL in the past. But the game's latest partnership blends Fortnite with another game series: Borderlands. It's a little weird. But you know what? It works.
To start, the Fortnite-slash-Borderlands crossover (which is definitely intended to promote Borderlands 3) adds a new Rift Zone to the map called Pandora, located in the southeast desert area. Stepping inside instantly gives everything a Borderlands-like aesthetic, so buildings, vegetation and even chests all look like the type you might find in a Borderlands title. It's a pretty convincing switch, thanks to Fortnite's cartoony art style. But looks alone aren't what make this area similar to the Borderlands version of Pandora: while players are in the Pandora Rift Zone, they'll be able to regenerate their shields after four seconds without taking damage.
The builders among us will also be able to use Pandora-style items to assemble new locations in the game's Creative mode. According to Epic Games, "Fortnite will be featuring a Pandora themed block in the near future," so Borderlands fans who to see that world extend past the Rift Zone will have their dreams come true in the days ahead. We're not sure if the Pandora Building Set is a limited-time thing, but it's cool regardless, and we'll be interested to see what people build with it.
And finally, it wouldn't be Fortnite if the game wasn't trying to sell you something. The Fortnite store is selling a Borderlands-inspired Psycho Bundle that includes both a Psycho Bandit skin as well as — get this — a Claptrap back bling. A Claptrap you can wear on your back. If this bundle doesn't sell like mad, we'll be genuinely surprised.
Pandora will disappear on Sept. 10, which means you have a limited amount of time to experience the Borderlands universe inside Fortnite. But don't worry: Borderlands 3 arrives on Sept. 13, so if you haven't had your fill of cel-shaded graphics and psycho bandits, you can pick that game up on PlayStation 4, Xbox One, and PC via — you guessed it — the Epic Games Store.