Blizzard Sues Chinese Publisher Over World Of Warcraft Clone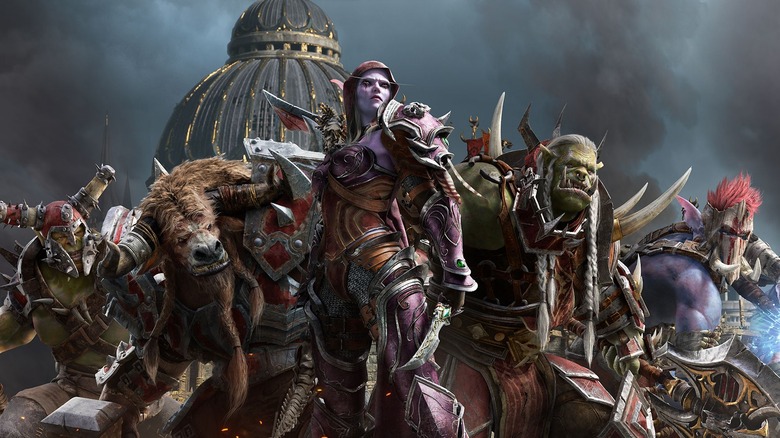 Blizzard Entertainment has filed a lawsuit against Sina Games, claiming that the content of their free-to-play mobile and PC title Glorious Saga was "almost entirely copied from the Warcraft games and related products."
This "massive infringement" of Blizzard's intellectual property includes characters, creatures, equipment, sound design, and Glorious Saga's game icon, which mirrors the cover of the World of Warcraft expansion Battle for Azeroth. "Every character in the Infringing Game was copied from a character from the Warcraft games, and many even bear the names of popular characters from the Warcraft games such as Jaina Proudmoore, Gul'dan, and Malfurion," Blizzard wrote.
"Every monster, creature, animal and vehicle in the Infringing Game was copied from the Warcraft Games. Weapons, amulets, and other objects were taken straight from the Warcraft games, without pretense. Audio cues and sound effects from the Warcraft games were reproduced for the Infringing Game."
Sina Games is a subsidiary of Chinese software company Sina Corp. According to Blizzard, Glorious Saga developer InstantFuns has stolen most of the content for its games from popular franchises such as Pokemon, Yu-Gi-Oh! and Naruto. The suit names 5 companies, including InstantFuns and Sina Games, and two individuals as the defendants. Blizzard believes that most of the groups listed act as shell companies for Wang Hao and Lutong Zhou, who created them "as part of an overarching scheme to deceive Blizzard or members of the public."
Blizzard is asking the court for several outcomes, including the order that the defendants stop running the game and turn over all copies of its source code, computers, and servers. This includes the transfer of InstantFuns' website domain to Blizzard. The developer is also requesting that the defendants pay $150,000 per infringed work, legal fees, and that they hand over any profit they've collected from Glorious Saga.