Project Resistance: Early Screenshots Leak Of New Resident Evil Game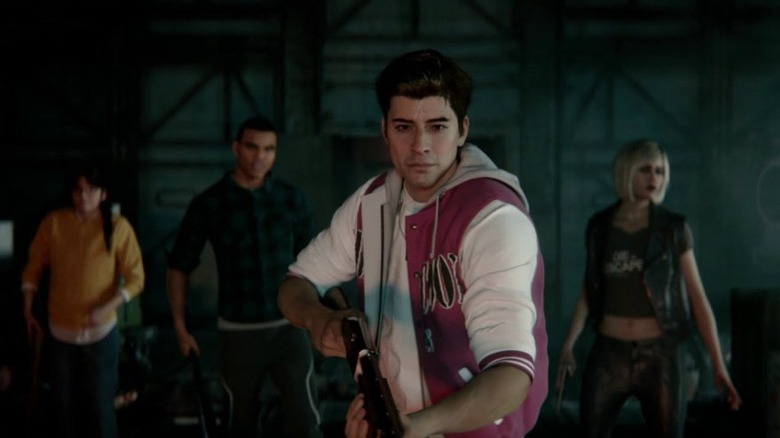 Twitter: @Wario64
Next month, Capcom plans to share a trailer for a new Resident Evil game with the codename "Project Resistance." But say you don't want to wait. Say you'd like to get a look at some of the game's characters today. You can do that, thanks to some leaked images posted online this morning.
The images come courtesy of Twitter news wizard Wario64, who posted a set of four photos that were "leaked via YouTube thumbnails." Several of the images feature a male character wearing a hooded sweatshirt (that says RACCOON), another features a female character wielding a pistol, and a fourth shows off four characters from the game; the aforementioned male and female along with another male and female. All appear to be either high school or college aged, and one of the images looks to be set in an office building or school-like location.
Now the question is, what in the world is this game?
Some on Twitter are convinced that this is a third entry in the Resident Evil Outbreak sub-series. Others believe this is a full-on mainline game, as in, it could be Resident Evil 8 (though that supposedly won't come until RE3 gets a proper remake). Whatever the case, it doesn't look like this is going to be a revamp of any Resident Evil that's come before. The characters don't seem all that familiar, and the presence of four of them leaves the door open for the game having some kind of split story or multiplayer aspect to it.
Multiplayer, by the way, would lend a lot of credence to the belief that this could be another Outbreak game. But we can't say for sure. All we have to go on are the screenshots at this stage.
Capcom is scheduled to show the official teaser trailer for Project Resistance on Sept. 9. We'll have to see if these leaks force the company to reveal things a little earlier than anticipated.