Will The Dark Pictures: Man Of Medan Ever Release On Switch?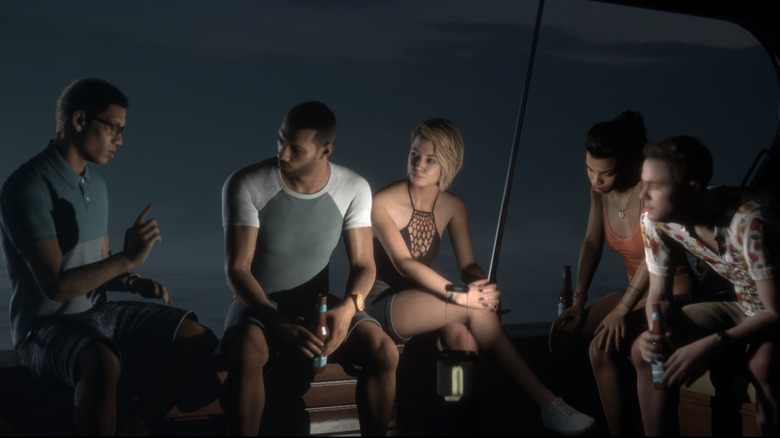 The Dark Pictures: Man of Medan is the latest story-driven horror title from Supermassive Games, the studio behind games like Until Dawn and The Inpatient. And fortunately, this one isn't PlayStation exclusive; you can pick it up on PC, PS4, and Xbox One. But what about Nintendo's console? Will The Dark Pictures: Man of Medan ever release on Switch?
It doesn't look very promising right now.
In an interview with website Wccftech prior to Man of Medan's release, Supermassive director Tom Heaton covered a number of topics, such as how similar the new game is to Until Dawn, and approximately how long it'll take to finish. And yes, he did answer a question about whether or not Supermassive had considered making a Nintendo Switch version of Man of Medan. But it's not one Switch fans are going to like; especially those who don't own any other platforms.
"It's the first time we've gone multiplatform but we're not looking at the Switch at all," Heaton said. "We're concentrating on getting it as good as we can on [PC, PlayStation 4, and Xbox One]."
Many developers have stated in the past that they're not planning Nintendo Switch versions of their games, or that they don't have anything to say about Switch at the moment. Some have even gone on to release Switch games later. We can't recall a single time where a developer flat-out admitted, "we're not looking at the Switch at all." That is particularly forceful, and has an air of finality to it, as though Supermassive has absolutely no desire to put games on the Switch. And that's a huge disappointment; Man of Medan seems like the kind of game that would thrive on the platform, especially since there aren't a lot of horror games on the Switch currently.
But until we hear an announcement of a Dark Pictures title coming to Switch, we'll have to take Supermassive's word for it. You shouldn't expect to see Man of Medan on Switch anytime soon. And there's a very good chance the game won't come to Nintendo's platform at all. Sorry!