Why The Nintendo Direct Made Xbox Trend On Twitter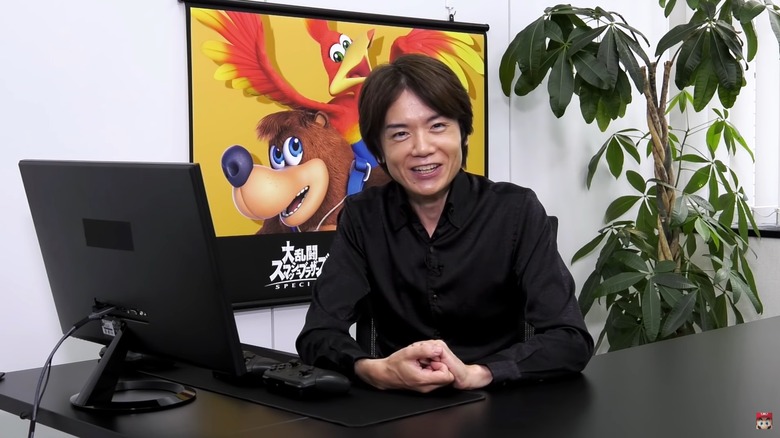 Yesterday's Nintendo Direct was full of surprise announcements, including a port of Overwatch for Nintendo Switch and the surprise reveal of Xenoblade Chronicles: Definitive Edition. But along with that news, we finally got the release date for Banjo and Kazooie in Super Smash Bros. Ultimate: yesterday, as in, the Rare platforming duo immediately joined the Smash roster after the Direct.
The Direct stream was followed by one from Smash director Masahiro Sakurai, who spent about twenty minutes talking about the stars of Banjo-Kazooie while also showing off their moves. And it was during this stream that Sakurai managed to get the term "Xbox" trending on Twitter. And how did he do that, you ask? Well, he implored the Smash community to go play the original Banjo-Kazooie on Xbox One.
Sakurai devoted the beginning of his stream to discussing the origins of Banjo-Kazooie. He noted the duo starred in two games on the Nintendo 64, had some additional adventures on the Game Boy Advance, and even got an outing on the Xbox 360. And then he went into great detail about the reality of their inclusion in Smash.
"As some of you may know, the Banjo-Kazooie IP now belongs to Microsoft," Sakurai said via translator. "Technically, they're a rival platform holder. Even so, they were happy for Banjo and Kazooie to join the Super Smash Bros. series. For that, I'm extremely grateful. Rare also welcomed us with open arms."
It was then that Sakurai made an impassioned plea to those viewing the stream.
"So, if you want to play Banjo-Kazooie today, you can do so on Xbox," Sakurai said, drawing laughter from those recording him in the studio. "I know this is a Nintendo broadcast, but please, give the game a try on Xbox."
Banjo-Kazooie is playable on the Xbox One via backward compatibility (the game was ported over to Xbox 360), and is also part of the Rare Replay collection on the platform. Those are the only modern ways to play the game currently, but who knows: maybe we'll get a version of Banjo-Kazooie on Switch someday.
Banjo and Kazooie are available in Super Smash Bros. Ultimate right now, either for individual purchase or as part of the game's Fighters Pass.