Epic Games Store Teases Free Batman Game(s) For Next Week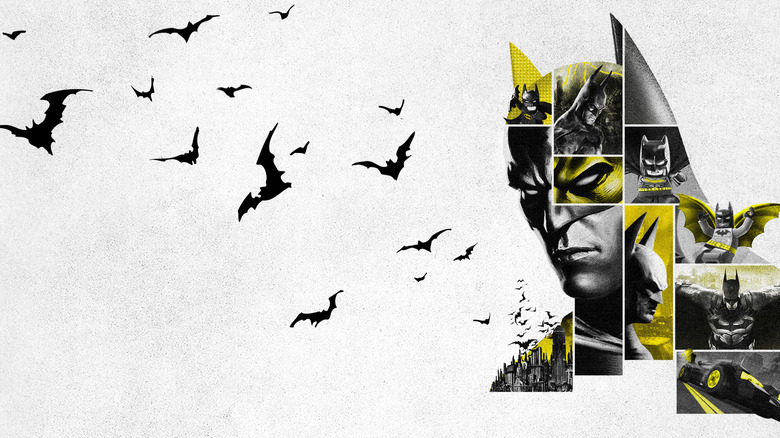 Okay, look out: the Epic Games Store is getting cute. Normally at this time each week, we catch a glimpse of what Epic's store will be giving away a week from now. We usually have a game title or two to share. This time, things are different. Next weeks game title is listed as "? ? ?" in the Epic Games Store. And the cover art is just some shots of Batman.
Advertisement
But these images could still be telling us everything we need to know.
There are two very different art styles for Batman in the teaser image provided by the Epic Games Store: there is the Arkham Batman present in the Arkham series of games, and there's the LEGO version of Batman found in the various LEGO Batman titles. Each instance of Batman showing up in either form comes from a different Batman game's cover art.
So... let's roll the dice.
If we had to guess, the Epic Games Store is going to be giving away Batman: Arkham Collection next week. And because this trilogy is rated M, Epic will also be giving away the E-rated LEGO Batman Trilogy. We are just going off of the teaser image. We don't have any official word from Epic or Warner Bros. But we feel pretty good about this being what Epic has up its sleeves for next week.
Advertisement
Let's make no mistake, by the way: this would easily be the best week of giveaways in the Epic Games Store's short history. The Arkham games are fantastic. Everyone knows that. But don't sleep on the LEGO games; they're actually pretty great, too, and the Batman ones especially are worth checking out.
And not to stir everyone up too much, but... are we getting a Batman-related announcement soon? We'll definitely have eyes on Epic come next week, just in case there's more to this. It feels like there should be.
The Batman game(s) — either singular or plural — will go free on Thursday, Sept. 19.