Fortnite Patch V10.30 Map Changes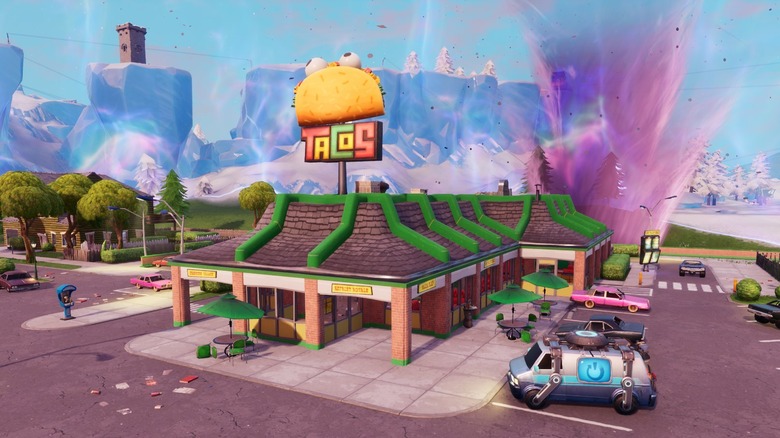 Fortnite's v10.30 Update went live on September 11, introducing some significant changes to the battle royale map. Epic Games restored some classic Fortnite locations, but with a unique twist. Here's everything you need to know about the new landscape.
Moisty Palms
Though Paradise Palms was not completely overrun with swampland as some fans predicted, trees have sprouted throughout the drop point, creating the Moisty Palms hybrid. Like all Rift Zones, Moisty Palms comes with its own quirk: players who crouch in this area will instantly transform into a random prop, a hilarious and convenient way to hide from or ambush other players.
Greasy Grove
This legendary location returns after a brief spell on ice. A massive circle within the snowy tundra has melted, unearthing a new taco restaurant that seems to have given Durrr Burger the boot. Tacos rain from the sky at regular intervals here, gifting players with 20 HP and forcing them to dance for the duration of the shower. You can also find Spicy Tacos scattered around Greasy Grove. These special edibles grant 10 HP and a 40% speed boost for 20 seconds after consumption.
Back Behind Bars
The prison, a favorite drop point for looters and strategists, has returned in conjunction with the Moisty Palms Rift Zone. You'll find it on the hill overlooking the city.
Dusty Depot
Dusty Depot was the first location to reappear, heralding the arrival of the enigmatic Visitor and their Rift Portals. The Visitor seems to have returned to Dusty Depot with a new mission in mind, as evidenced by the new scaffolding on top of one of Dusty Depot's buildings. 
Westworld returns
Epic removed Westworld in Patch v10.20, replacing it with Pandora as part of Fortnite's special collaboration with Borderlands 3. Turner 'Tfue' Tenney promptly threw a hissy fit on stream, berating the developer for removing his favorite landing spot. Well, luckily for Tfue, the self-proclaimed "greatest" Fortnite player, Westworld has returned. No doubt he'll find some other feature to blame when he loses his next match.