Heroes Of The Storm Teases 1920s-Themed Event, The Scarlet Heist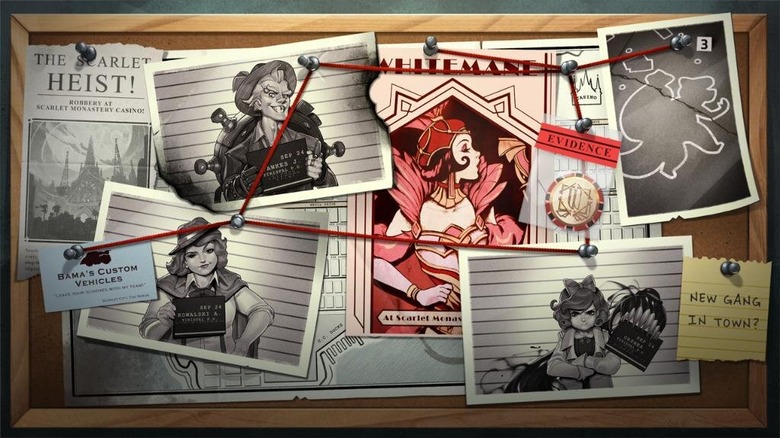 Blizzard Entertainment's efforts to breathe new life into flagging online team brawler Heroes of the Storm continue with The Scarlet Heist, a new 1920s themed event. Though details about the event remain scarce, it's slated to introduce some fresh cosmetic items.
Advertisement
The developer teased The Scarlet Heist with a single image on Twitter over the weekend. New skins for playable characters Sgt. Hammer, Junkrat, Whitemane, and Orphea will debut as part of the event. The promo includes a picture of a chalk outline resembling the silhouette of a raccoon or dinosaur which some fans believe heralds the arrival of an upcoming mount.
The Scarlet Heist follows the addition of Heroes of the Storm's second original character alongside a new ranked system last month. Qhira, The Reamless Bounty Hunter, joined the roster on August 6, becoming the MOBA's first black female hero. A Melee Assassin, Qhira excels at bursting down fragile Heroes. The Storm League entered its first ranked season on the same day, replacing the old Hero and Team Leagues and bringing a new quest line and faster queue times.
Advertisement
Though Blizzard didn't share the launch date for The Scarlet Heist, a close examination of the various mugshots reveals "Sep 24" printed on the top right corner of each placard. Based on this detail, the event will likely arrive early next week. Hopefully, the developer will reveal more information about the promotion over the coming days. In the meantime, you can ponder the implications of the headline "Robbery at Scarlet Monastery Casino" and a note questioning the arrival of a "new gang in town."
These updates reaffirm Blizzard's dedication to Heroes of the Storm, despite reassigning members of the team at the end of last year and discontinuing the Heroes Global Championship and Heroes of the Dorm. "Heroes of the Storm remains our love letter to Blizzard's worlds and characters," read the announcement. "The development team will continue to support Heroes with the same passion, dedication, and creativity that has made the game such a unique experience."