Fortnite Season 10 Week 8 Battle Star Location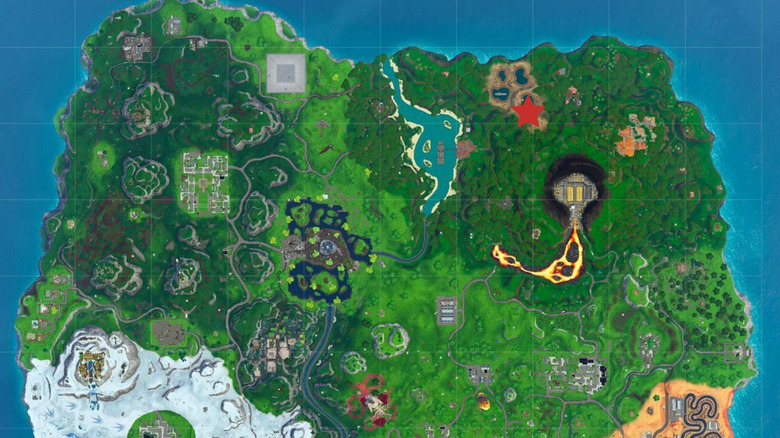 Fortnite Season 10 Week 8 has arrived, bringing with it a new limited-time mission, loading screen, and hidden Battle Star to collect.
Titled "Gothic," this week's loading screen gives off some serious Gotham City vibes just in time for Batman Day on September 21. Fortnite has decided to get in on the fun, celebrating the Caped Crusader's 80th Anniversary with a Batman crossover. Leaks suggest that you have plenty of Dark Knight themed content to look forward to, including a Batarang and a Batman Grapnel gun; however, the Gothic mission set is not overtly Batman-related:
Deal damage to opponents in a single match
Land at Salty Springs or Junk Junction in different matches
Suppressed weapon Eliminations
Search an Ammo Box in different named locations in a single match
Search Chests at Hot Spots
Visit Retail Row and The Block in the same match
Deal damage with SMGs to opponents
As usual, you'll need to complete three limited-time challenges to unlock the loading screen. Once you have it, you can spot the following coordinates etched into the gargoyle in the bottom right portion of the image: G2, G3, H2, H3. This clue points to a brown crater just below the thermal pools/hot springs in the northeastern portion of the map (east of Lazy Lagoon).
In addition to the Battle Star, you'll receive the following rewards for completing the Gothic mission:
1 objective completed – 10 Battle Stars
2 objectives completed – 500 XP
3 objectives completed – Summer Slurp Loading Screen
4 objectives completed – 1,000 XP
5 objectives completed – 500 XP
6 objectives completed – 10 Battle Stars
7 (All) objectives completed – 2,000 XP
The Fortnite Week 8 Battle Star is up for grabs until Thursday, September 26. The earliest you'll be able to complete enough challenges to claim it is Saturday, September 21, when the third mission goes live.