Are Pearl And Marina Splatoon Dating?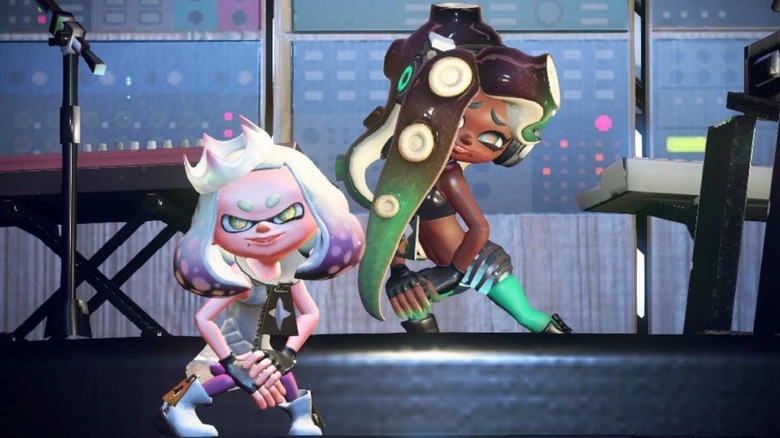 To those who don't play a lot of (or any) Splatoon 2 on Nintendo Switch, the game looks like nothing more than an all-ages, arcadey first-person shooter that trades bullet-filled guns in for blasters and rollers full of paint. It doesn't look like the kind of game that would dare to push boundaries; especially coming from a traditionally conservative company like Nintendo. But that's precisely what makes the story of Pearl and Marina so amazing.
Advertisement
Pearl and Marina are two characters from the world of Splatoon 2 who happen to make up an in-game band called Off the Hook. Back when the game held Splatfest events, Pearl and Marina would team up to jam, all whilst each leading a team players could join for the duration of the contest.
But something very different happened during the very last Splatfest in the summer of 2019. When the results of Splatfest came in, Pearl and Marina seemingly tossed aside the typical fun banter and instead engaged in some real talk about the future of Off the Hook, with Pearl making it appear as though the band was going to break up. Not just that, though; the way she was phrasing it, and the way Marina was reacting almost made it seem like Pearl was breaking up with Marina.
Advertisement
Thankfully, that was not the case at all. Pearl wasn't saying she wanted to "break up," but rather, wanted to "break into" new genres of music. And as Marina, eyes welled up, made sure that Pearl wasn't calling it quits, Pearl offered up this line in response: "You know I love you. It's you and me against the universe, 'Rina!"
This exchange had some Splatoon 2 players believing that Pearl and Marina are dating, and that Nintendo all but confirmed as much when Splatfest came to a close. And unfortunately, while we can't really say that's the case without Nintendo flat-out agreeing, we're all for Nintendo potentially dropping hints to let younger gamers know that, hey, two girls can date one another and that's totally fine.
In fact, if there's anything wrong with the entire situation, it's that we'll likely have to wait for a Splatoon 3 for the story to continue. The Splatfests are officially done for now, which means we probably won't be seeing what Pearl and Marina are up to for a few more years. Until then, we'll just have to imagine that the two are still rocking out, either in love or as friends; however you interpret it.