Untitled Goose Game Could End Up On PS4 And Xbox One, Too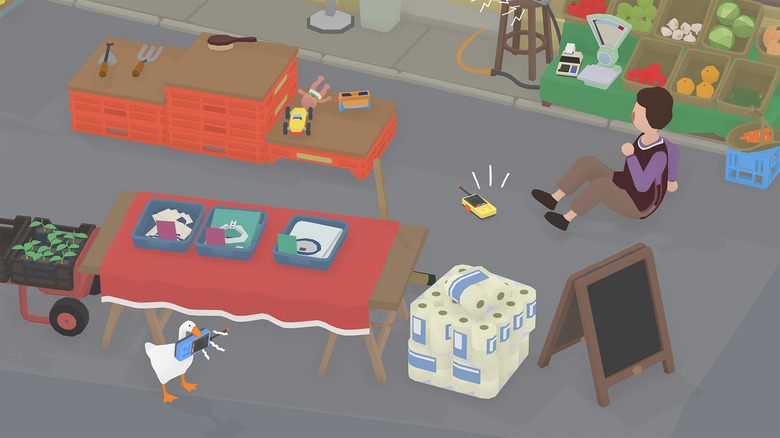 Honk if you have a PlayStation 4 or Xbox One! People are positively raving about Untitled Goose Game, which launched a little less than two weeks ago on PC and Nintendo Switch. Now it looks like those on other platforms might get a chance to experience the game. And thank goodness.
In an interview with the Australian Broadcasting Corporation (a.k.a. Aussie ABC), the developers behind Untitled Goose Game talked at length about the wild reaction they've seen to the title, how UGG has been ripping up the Nintendo Switch's sales charts, and how exactly four devs from Melbourne came up with the idea to let a goose terrorize a small village in England.
And they also let something rather interesting slip with regard to where else we could see Untitled Goose Game appear. According to ABC, House House (the studio's official name) "hopes the Untitled Goose Game will be rolled out onto the PlayStation and Xbox platforms where it could reach a wider audience."
For those who feel they've been missing out on a moment in pop culture by not playing Untitled Goose Game, this is fantastic news. The reach of this title has truly been something to behold, with those who don't even typically play games asking what the fuss is all about, or where they can buy it.
As popular as PC is as a platform, and despite the Nintendo Switch's strong sales, there's a giant console install base to be reached by putting UGG on both PS4 and Xbox One. And if House House can port the game quickly enough, there are likely a horde of buyers ready to pick the game up on either system.
We'll be sure to update you should we hear anything more about Untitled Goose Game hitting PS4 or Xbox One. In the meantime, the game is out now on PC (via the Epic Games Store) and Nintendo Switch.