Untitled Goose Game Gets The Controller It Deserves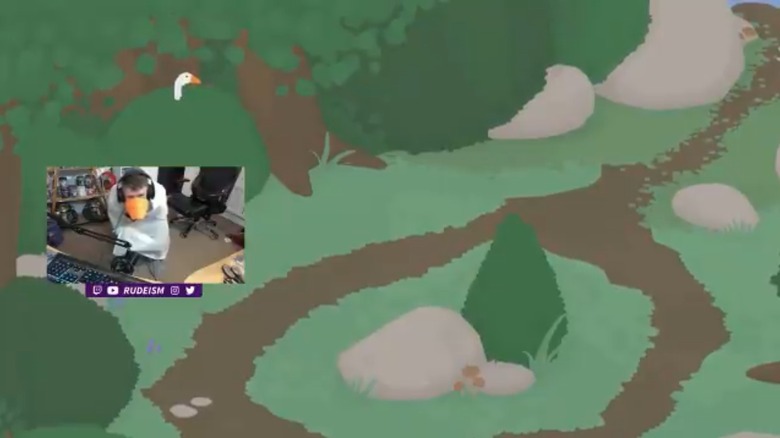 Have you ever wanted to experience the life of a goose in the most authentic way possible? According to one streamer, it's not done by simply playing Untitled Goose Game; it's by trying to actually become the goose.
Twitch streamer Rudeism went above and beyond when it came time to play Untitled Goose Game, as you can see in the clip below. He ditched the traditional controls found in the PC version of the game and instead crafted his own. He fashioned himself a beak. He draped himself in a white sheet to mimic the look of a real goose. And then he rigged up his "wings" so that the goose in Untitled Goose Game flapped at the same time he did, and his feet so the goose waddled about when he did.
Voice-activated honking. Motion-controlled flaps. Moving by waddling your feeties. 🦢

THIS is how Untitled Goose Game is meant to be played.

🔊 Sound on! 🔊https://t.co/zYmwx36Hkq pic.twitter.com/DJLigMw64J

— Rudeism (@rudeism) October 2, 2019
Not only that: he assigned the honk of Untitled Goose Game's goose to a noise-activated input. The result? When Rudeism honks, the goose also honks. It sounds positively ridiculous, but there's also something rather impressive about the whole setup. It's just one VR headset away from offering a fully immersive goose experience, and that's something we never knew we wanted until this very moment.
This, along with the rest of the buzz surrounding the game, has landed Untitled Goose Game in a rather remarkable place. It became the number one digital game on the Nintendo Switch eShop shortly after its launch, for instance, and has only grown in popularity thanks to mentions from celebrities like Chrissy Teigen and Blink 182's Mark Hoppus. And the game has inspired some choice meme material, with folks on the internet using either the goose itself or the game's art style for comedic effect in a number of different ways.
Low effort goose memes are my love language. pic.twitter.com/t1XZL38PHz

— Jedd Goble (@JeddJedd) October 2, 2019
All of this for a game about the world's nastiest goose, made by four developers at a small indie studio in Melbourne, Australia. Not bad.