Red Dead Online's Latest Legendary Bounty Is A Former Military Sharpshooter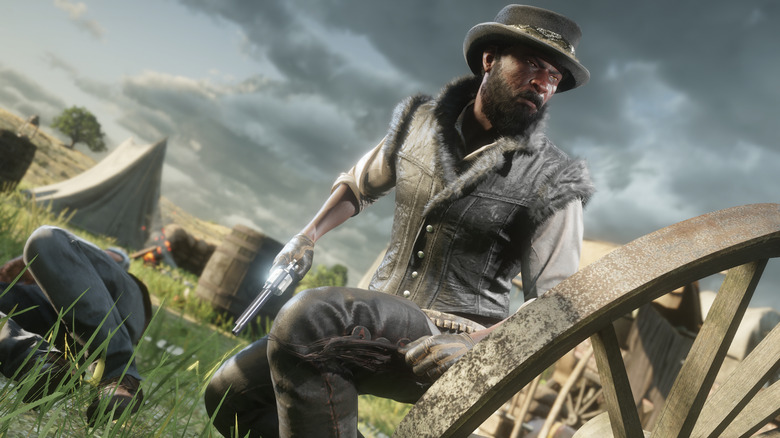 Prepare yourself, Bounty Hunters. Red Dead Online has a new Legendary Bounty on offer and it's a real doozy.
This week, licensed Bounty Hunters can take on Sergio Vincenza, an anarchist agitator and former military sharpshooter. 
Beyond defecting from the military, Vincenza has a long list of sins, including a failed assassination attempt on the Saint Denis Governor. According to the local rumor mill, he's currently holed up in the Roanoke Ridge fire tower with his followers. Like Vincenza, his men are all ex-military and have reportedly filled the area with traps and explosives. Sounds like you've got your work cut out for you.
If you're new to the game and want to get on the fun, Cripps and Madam Nazar are offering a limited time 5 Gold Bar discount on the Bounty Hunter's License, the Trader's Butcher Table and Collector's Satchel required for Frontier Pursuits. The promotion lasts until October 14 so grab it while you can.
Seasoned players looking to further test their skills can check out this week's Free Aim series, Name Your Weapon. In the heart-pounding survival match, you'll compete in teams and Free-For-All variants, scoring points on a sliding scale based on the difficulty of the weapons you use to take out the opposition.
Wheeler, Rawson & Co has some new clothing items on sale, including the Folwell and Dillehay Hats, Prieto Poncho, Eberhart Coat, Morales Vest and Carver Pants. For those who would rather make money than spend money, you can score a nice payout by providing travelling saleswoman Madam Nazar with the Naturalists Collection. Simply bring her a Cherrywood Comb, Egret Egg and Bitterweed to claim your reward.
Speaking of rewards, there's lots up for grabs this week. You can earn 5,000 Club XP just for playing Red Dead Online and earn 30% extra Character and Role XP for completing all Role missions, challenges and events below:
Bounty Hunter: All Bounty Missions including Legendary and PvP Bounties
Bounty Hunter: Manhunt and Day of Reckoning Free Roam Events
Bounty Hunter: All Daily Challenges
Trader: All Sell Missions
Trader: All Daily Challenges
Trader: Trade Route Free Roam Event
Collector: Collecting Coins, Family Heirlooms and Wild Flowers
Collector: All Weekly Set Sale and Collectors Set Sales
Collector: Salvage and Condor Egg Free Roam Events and Daily Challenges
To check out all the current offers and promotions, head over to the Red Dead Online website.