GTA Online Adds King Of The Hill Mode And A Sweet New Ride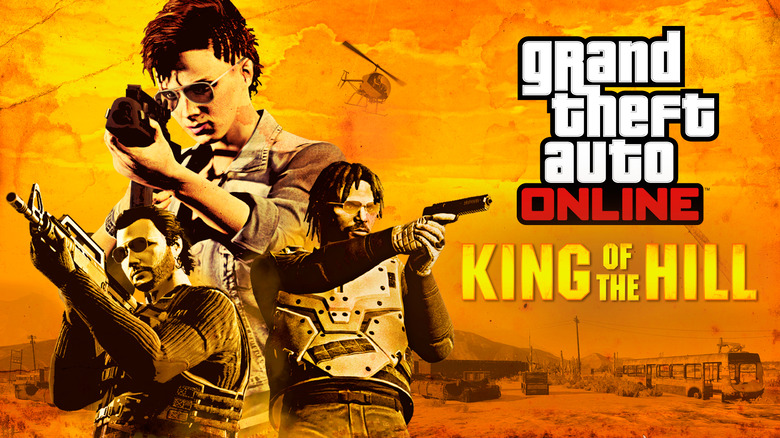 In typical Rockstar fashion, the developer has added a wealth of rewards and new content to Grand Theft Auto Online this week, including a new mode and Sports car.
In the new King of the Hill mode, you'll queue up with up to 15 others players divided into two to four teams to stake your claim on the throne. Grab a weapon and duke it out across seven different maps scattered across San Andreas state. You'll also receive Double GTA$ and RP just for playing between now and October 16.
Rockstar does a pretty good job of hyping the Ocelot Jugular, the new sports car available from Legendary Motorsport: "This baby can cut down the road with the precision of a surgeon, if that surgeon had an impact force of multiple kilonewtons and could backhand a man with a slap mass of several metric tons." What more could you want in life?
Getting back to the bonuses, Grand Theft Auto Online is currently offering Double GTA$ & RP on all Client Jobs through October 16. Special Cargo Sell Missions are paying out 2X GTA$ this week and you can also score a cool 40% discount on the Benefactor Terrorbyte and all Special Cargo Warehouses.
After a hard day filled with joyrides and mayhem, you can head over to the Diamond Casino & Resort to spin the Lucky Wheel. In addition to the typical GTA$, RP, and clothing, you have a chance to win this week's top prize: the Principe Deveste Eight. The Casino Store also has lots of exclusive goodies on sale right now, including limited-edition clothing and artwork.
Those looking to burn through their hard earned cash can also take advantage of some impressive discounts on the following items:
Benefactor Terrorbyte – 40% off
Special Cargo Warehouses – 40% off
Progen Emerus (Super) – 25% off
Ocelot Pariah (Sports) – 35% off
Enus Paragon R (Sports) – 35% off
Grotti Turismo R (Super) – 35% off
Karin Sultan RS (Super) – 35% off
Dewbauchee Specter (Sports) – 35% off
Vapid GB200 (Sports) – 35% off
Annis Elegy Retro Custom (Sports) – 35% off
Vehicle Armor – 40% off
Bulletproof Tires – 40% off
All Ammo – 40% off
Body Armor – 40% off