Moons Of Madness Will Soon Slither Onto PC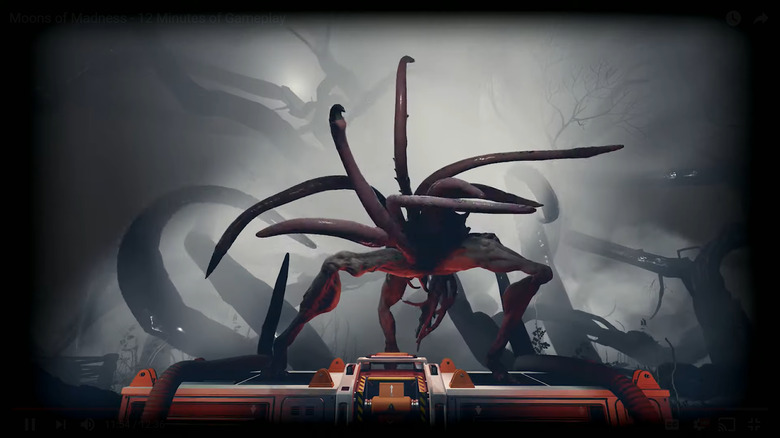 What's scarier than the vast, empty expanse of space? Maybe the tentacles that live there. Just in time for Halloween, Funcom and Rocket Pocket Games' sci-fi horror game Moons of Madness is coming to PC on Oct. 22. A version is also slated for PlayStation 4 and Xbox One on Jan. 21, but maybe that delay is for the best. This game looks really, really scary. 
Branded as a cosmic horror title, Moons of Madness takes some Lovecraftian inspiration by heaping on the tentacles in the terrifying release date announcement trailer. In less than a minute, we're exposed to technician and protagonist Shane Newehart's "boring Martian routine," which includes big tentacle monsters, disappearing people, whispering witches, and lots and lots of horrifying tableaus. We bet you're wondering: how did poor Shane get into this mess? According to the developers, it all started when scientists received a mysterious signal from Mars, which prompted them to build a private research center on the planet in order to discover the message's origins. Everything seemed routine and "boring" right up until the greenhouse flooded... then red dust began to leak into the infirmary... and suddenly the whole facility was on lockdown. 
Moons of Madness operates in the same universe as Funcom's Secret World Legends, the action RPG that pits players against the supernatural. That said, you don't need to have played the previous game to enjoy (and get spooked by) this one. Moons of Madness was announced in March of last year and has been pretty hush-hush ever since, but we do have 12 nerve-wracking minutes of gameplay to tide us over until release. This a game you want to play with the lights down low and your headphones on: it's dark and full of disquieting sounds meant to immerse you in the world of Shane Newehart, who is nowhere near prepared for what happens to him.
We hope that you're prepared for Moons of Madness, should you dare to play it. The game arrives on PC in less than two weeks' time: Oct. 22.